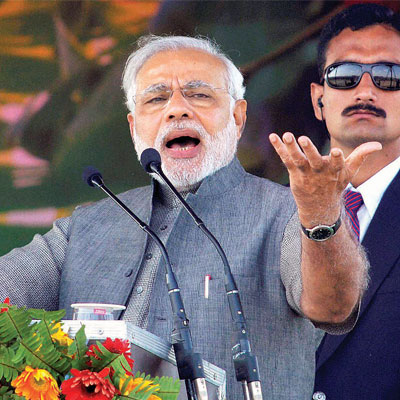 Less than a month ago, BJP's prime ministerial candidate Narendra Modi had said he continued to be an untouchable for many in the country while party leaders mainted that the numbers after Lok Sabha elections will dictate the political equations.
Today, encouraged by the trickle of allies moving into the NDA fold, the BJP is exploring all possible pre-poll tie-ups and electoral understanding in states where it is politically weak. After finalising its alliance in crucial states like Bihar and Maharashtra, the BJP is reaching out to smaller parties in Odisha, Tamil Nadu and Assam.
While LJP leader Ram Vilas Paswan, the latest entrant into the NDA, was sharing dais with Modi in Muzaffarpur, senior BJP leaders — Arun Jaitley and Chandan Mitra — were in Bhubaneswar to discuss the possibility of tie-up with three parties in Odisha.
With the BJP's state unit refusing to have any pre-poll alliance with Naveen Patnaik's BJD, the saffron party is talking to Ama Odisha party chief Soumya Ranjan Patnaik, Utkal Bharat president Kharabela Swain and Samata Kranti Dal founder and former Union minister Braja Kishore Tripathy. The state unit is opposed to an alliance with Odisha Jan Morcha (OJM) led by Pyarimohan Mohapatra, a former BJD leader.
The BJD has ruled out any pre-poll alliance. "BJD will go it alone. How the alliance between BJP and these smaller parties will help I do not know because fight is between BJD and Congress in the state," said BJD's B Mahtab.
However, BJP sources said the alliance would help consolidate the non-Congress, non-BJD votes and help a gain of around five per cent in the vote share.
A BJP leader said that two months ago the question being asked was whether the saffron party will get allies but now the party's alleged pariah status appears to be waning. However, the leader admitted that the big players like AIADMK, TMC or BJD would not enter the NDA fold ahead of elections.
In Tamil Nadu, where the party is talking to DMDK of matinee idol-turned politician Capt. Vijaykanth, PMK of Ramdoss and MDMK of Vaiko — the state unit has been asked by the party leadership to finalise the seat sharing arrangement within a week.
Party sources said the BJP was also having alliance talks with AGP in Assam. Modi, in his rallies in the North-East, has been talking of development.
Modi has been silent on issues like temple and uniform civil code and emphasising on his vision for economic development. In his recent rallies in Bihar and UP, Modi's speeches have revolved around giving priority to socially and economically backward sections of society.
Even if some of the allies are just fringe parties, they are crucial in the party's strategy to improve its vote share across states and send out a political message, a party leader said.