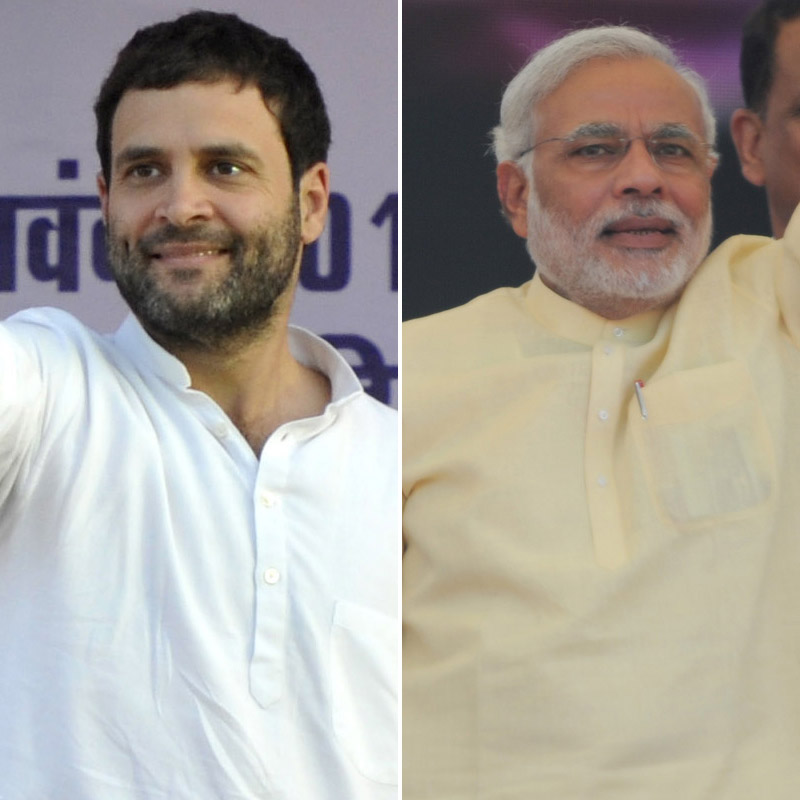 The Congress Party's vice-president and undeclared prime ministerial mascot, Rahul Gandhi filed his nomination for the Lok Sabha election on Saturday, seeking a consecutive third term from the Gandhi family's VVIP borough of Amethi.
The Gandhi scion was accompanied by Congress president Sonia Gandhi, Priyanka Gandhi Vadra, her husband Robert Vadra, senior party leader and close family friend Capt Satish Sharma and UP Congress chief Nirmal Khatri.
In his affidavit filed along with the nomination papers, Rahul has declared assets totaling Rs 9.4 crore, double the net worth he had declared in the 2009. However, the increase is primarily due to appreciation in value of his properties.
Rahul Gandhi also used the opportunity to clarify his remark about BJP prime ministerial icon Narendra Modi's marital status, saying it was nothing personal. "I didn't get personal. I just stated that on his affidavit, he (Modi) had previously not mentioned something," he said, but refused to elaborate despite persistent questioning from reporters.
Rahul had earlier sought to make an issue of Modi's marital status pointing out that the Gujarat CM had mentioned his marital status for the first time while filing nominations for the 2014 Lok Sabha election.
"I don't know how many elections the Gujarat CM has fought, but for the first time he has written his wife's name on the affidavit," Rahul Gandhi had said at a rally in Doda (Jammu & Kashmir) on Friday. "In Delhi, his posters talk of giving respect to women, but in the affidavit there was no mention of a wife till this time," he had remarked.
Talking about the chances of his party coming to power, Rahul said: "The opinion polls before 2004 and 2009 elections had also predicted that Congress will lose, and you know what happened. Same thing will happen this time as well."
After filing the nomination, Rahul said that he shared a "family-like" relationship with Amethi. He added that the party had worked to improve the status of women and farmers. He also said that national highways, railway lines and employment would be his priority areas.
Interestingly, Rahul started his 40-km roadshow to Amethi from Amhart in Sultanpur from where his cousin Varun is contesting on a BJP ticket. Also, Congress president Sonia Gandhi would be addressing a rally in Aaonla from where Varun's mother Maneka is the incumbent MP. In 2009, Congress had not put up a candidate against Maneka.
Travelling in a white SUV, both Rahul and Priyanka were welcomed by party workers who showered rose petals on them as they were en route to file the nomination.
Rahul, a two-time MP, from Amethi, will be contesting this time against the BJP's Smriti Irani and Aam Aadmi Party's (AAP) Kumar Vishwas. Elections in Amethi will be held on May 7.
The constituency is better known to be the seat of power of the Nehru-Gandhi political dynasty since 1980, when Sanjay Gandhi represented it once and later Rajiv Gandhi represented it four times.
Rahul Gandhi won from Amethi in 2004 and 2009 with huge margins. However, in the 2012 UP assembly election, Congress lost three of the five assembly seats in Amethi.
Prior to Rahul Gandhi, Congress president Sonia Gandhi represented the constituency.
Watch the video here: Rahul Gandhi claims not to have made personal attacks on Narendra Modi