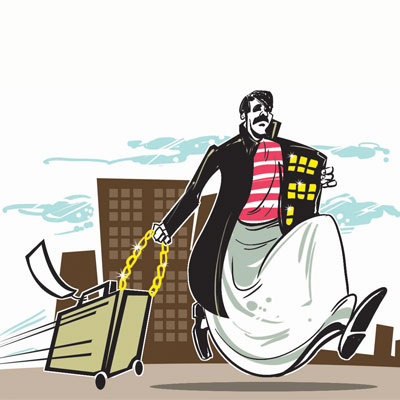 Custom officials at the country's airports are baffled by the innovative methods being adopted by gold smugglers. Officials have held four smugglers, all from Kasargod in Kerala, this month alone; the most recent arrest came earlier this week when two people were caught trying to bring in nearly 1 kg gold worth Rs 28 lakh.
Gold has been pouring into the country through unofficial channels thanks to the government-imposed curbs on imports of the yellow metal, according to the World Gold Council. The Centre put in place high import duties on gold in an attempt to keep a check on India's high current account deficit. As a result of high import duties, people are finding innovative ways to bring gold into the country.
The customs' intelligence wing said that bags with gold lining or trolley rods made of gold and copper are especially used by certain gold smuggling groups in Dubai due to the high demand for gold in Kerala.
Apart from Dubai, Bangkok and Singapore, gold smuggling syndicates are also bringing in the yellow metal from Australia.
Custom officials at Hyderabad's Rajiv Gandhi International Airport arrested a passenger returning from Dubai on February 17. Kasargod resident Mohammed Iqbal was arrested for carrying 467 grams of gold. The gold wires were aluminum-coated and used in 12 brassieres. The other person to be arrested was a woman, but officials refused to divulge further details about this second case.
Officials at the same airport held two smugglers for deftly concealing the yellow metal as part of their baggage on February 10. Both Abdul Rahiman and Beira Sulaiman had arrived from Dubai in two separate flights.
Custom officials intercepted Abdul Rahiman, who arrived on an Emirates flight after his trolley bag scan revealed bright wires in its lining. On closer examination, officials found that the wires were not made of iron, but were aluminum-coated gold. The 400 grams of gold was valued at Rs 12 lakh. Airport officials realised that Rahiman had made several trips to Dubai recently from various airports in the country.
Beira Sulaiman, who arrived on an Air India flight, was caught a day after he left his bag with customs officials who asked him to leave his baggage behind as they were unable to identify the metal frame attached to his trolley bag. The frame had almost 1 kg gold. Spectrum analysis of the frame revealed that it was solid gold worth nearly Rs 25 lakh. Unaware of the results of the tests, Sulaiman appeared before the customs officials to collect the metal frame and was promptly arrested. The fourth incident involved a similar tactic with the man carrying a bag with a concealed 'gold' metal frame. This person was arrested at Jaipur airport on February 15 when he was returning from Dubai.
The gangs from Kasargod have been using multiple teams of smugglers to bring gold to the state. For each kilo of gold smuggled from Dubai, an operator gets Rs 4 lakh, which includes flying, boarding and lodging costs in Dubai. In the last one month, the Hyderabad police and customs have registered nine cases of gold smuggling at the RGI Airport and seized 5.6 kg of the precious metal.