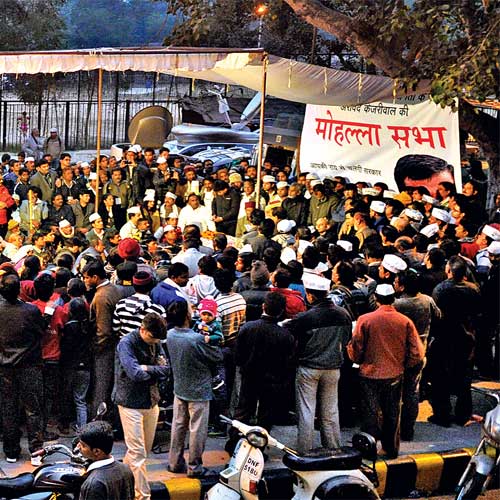 Wheel will turn full circle for the Aam Aadmi Party (AAP) at the Ramlila Maidan on Saturday when Arvind Kejriwal and his colleagues will take oath as Delhi chief minister and ministers.
It is from the same ground that their Jan Lokpal agitation led by Anna Hazare and engineered by Kejriwal had gained momentum and so it was a logical step for the AAP to take oath from the same ground.
Kerjiwal will travel by Metro from his house in Ghaziabad Kaushambi to reach Barakhamba Road from where he will reach Ramlila Maidan by his car for the ceremony which is scheduled at noon.
Kejriwal will be accompanied by his parents, wife and children. But the AAP clarified that they will stand among the public and will have no special place or enclosure. All AAP legislators will also stand with the public.
Brushed aside concerns of his security in the Metro, Kejriwal said he is a common man and would go to the venue of the swearing-in ceremony as an 'Aam Aadmi'.
Soon after taking oath, he would go to Rajghat before leaving for his first cabinet meeting scheduled around 2 pm. "After taking oath as Delhi's CM, I will call a cabinet meeting at 2 pm on Saturday," Kejriwal said.
He is also expected to meet the transport department officials after the cabinet to discuss the problems being faced by auto rickshaw drivers – who were the first one in the national capital to advertise about the AAP and became a loyal supporter group. Leaders of the auto union met Kejriwal on Friday and put forth their problems.
Meanwhile, preparations were going on a war footing to handle thousands of Delhiites who are expected to reach the Ramlila Maidan to witness the swearing-in ceremony. The AAP has given an open call to people to reach the venue and at least a crowd of 30,000 is expected.
The Delhi Police and civic agencies have made elaborate arrangements for the ceremony to manage huge crowd and traffic. "We have put additional deployment in the area to manage traffic," said additional commissioner traffic of Delhi Police, Anil Shukla.
Meanwhile, invitations were sent to former Delhi chief minister Sheila Dikshit, BJP's Dr Harsh Vardhan and several others including all BJP MLAs. Invitations were also extended to Anna Hazare, Kejriwal's colleagues in Jan Lokpal agitation like Kiran Bedi and Justice N Santosh Hegde besides his friends and supporters.
However, Hazare and Kiran Bedi would not be attending the ceremony. "I have spoken to Anna and he has said that he will not be able to attend the oath taking ceremony due to his ill health," Kejriwal said.
Kiran Bedi also told dna that she is travelling out of Delhi due to prior commitments, because of which she will not be able to attend the ceremony. She, however, wished Kejriwal well and had a couple of suggestions too. "I congratulate them and offer my absolute best wishes for their success. Arvind has very good organisational capabilities. He would certainly do very well," Bedi told dna.
First 20 items on govt agenda
Delhi is holding its breath tight to see whether Arvind Kerjiwal's government will be able to fulfill the promise his party made to the people before the elections. dna's Mayank Aggarwal brings out 20 items that would immediately be on the AAP's table after forming government.
1. Free supply of 700 litres water per household per day. An order for laying of pipeline in areas that still don't get piped water in the city. To end water tanker mafia.
2. Ending VIP culture (already started by denouncing security and government bungalow).
3. Auditing of power distribution companies and reduction in electricity tariff by 50 per cent.
4. Solving the problems of auto-rickshaw drivers, who first ran the AAP's campaign in Delhi, as they were critical of the latest increase in CNG price by around Rs 4.5 on Thursday. Increasing the number of auto stands also one of the issues.
5. Passage of Jan Lokpal bill within 15 days of coming to power.
6. Decentralisation of power – Swaraj – wherein people through mohalla sabhas would be able to decide what development work they want. Connecting all households to the sewage network
7. Regularisation of unauthorised colonies.
8. Creation of special citizen security force for women's safety across Delhi. They will provide assistance to anyone in distress.
9. Providing employment – the AAP promised to fill all vacant government posts, provide better facilities to industrial areas and provide young entrepreneurs loans at low interest rates.
10. Building community and public toilets in Delhi — the AAP has promised to build two lakh toilets, of which one lakh would be for women.
11. Keeping a check on hoarding of essential commodities, including vegetables.
12. Trying for full statehood in Delhi.
13. Opening of 500 new government schools. Also to regulate high fees and donations in private schools and colleges as the new academic session is just a few months away.
14. Regularisation of contractual/temporary teachers in both government and private schools and colleges. Also to fill all vacant posts in educational, health and other government sectors.
15. Establishment of new primary health centres and to open new government hospitals to reach international norm of five beds for every thousand people.
16. Simplifying VAT structures and oppose FDI in retail Industry.
17. Empowering gram sabhas who would then make decisions regarding villages areas, including land acquisition.
18. Rehabilitating people living in slums in the national capital. To provide accommodation on site or as near as possible. Till rehabilitation is done, govermemt will ensure no slums will be demolished.
19. No contractual jobs for work that is required 365 days a year and social security for unorganised sector workers. Licenses and fixed locations to be given to street vendors.
20. Opening of new courts and appointment of more judges to ensure speedy justice.