Narendra Modi led his party to a resounding victory which saw it win 115 seats in the 182-member assembly.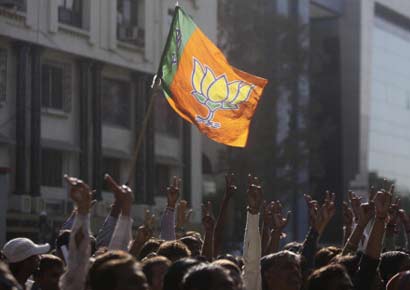 Surmounting incumbency factor and snuffing out a feeble challenge from a renegade saffron party stalwart, Narendra Modi today scored an unprecedented hat-trick, catapulting the BJP to power in Gujarat for the third consecutive time.
Fortifying his claim as a frontrunner in the BJP for prime ministership in the event of NDA coming to power after the general elections, Modi led his party to a resounding victory which saw it win 115 seats in the 182-member assembly.
Arch rival Congress, out of power in the state for the last 22 years, secured 61 seats, while Sharad Pawar's NCP, fighting the polls in alliance, won two. Gujarat Parivartan Party of Keshubhai Patel bagged two seats, while JD(U) and an independent won a seat apiece.
The performance of the two main contenders to power was nearly a repeat of the 2007 elections when BJP had won 117 seats and Congress 59.
Though the Congress marginally bettered its tally this time, getting two seats more, state party chief Arjun Modhwadia and Leader of Opposition Shaktisinh Gohil suffered shock defeat from Porbandar and Bhavnagar rural seats respectively. Both were among the probables for Chief Minister's post in the event of Congress coming to power.
However, another Congress stalwart, Shankarsinh Vaghela, a former BJP Chief Minister, managed to scrape through from Kapadvanj.
Among the major casualties for BJP were five ministers in the Narendra Modi government.
Health Minister Jaynarayan Vyas was worsted by Balvantsinh Rajput of Congress in Siddhpur, while Agriculture Minister Dileep Sanghani lost to Congress' Paresh Dhanani at Amreli. Social Justice and Empowerment Minister Fakirbhai Vaghela lost to Congress' Jethabhai Vaghela in Vadgam.
Junior Ministers Kiritsinh Rana and Kanubhai Bhalala too bit the dust. Modi himself won by a massive margin of 86,373 votes from Maninagar, humbling Congress' Shweta Bhatt, wife of suspended IPS officer Sanjeev Bhatt, who has accused the Chief Minister of complicity in 2002 communal riots and is fighting a legal battle against him.
Modi's right hand man and former Minister of State for Home Amit Shah won Naranpura seat by over 63,000 votes trouncing Jitubhai Patel of the Congress. Shah is an accused in alleged fake encounter killings of Sohrabuddin Sheikh and Tulsiram Prajapati.
Keshubhai Patel, whose party had fielded 163 candidates, himself scored a facile victory in Visavadar though his party fared abysmally winning just two seats.
Even Gordhan Zadafia, who was Minister of State for Home in BJP government in 2002 and was considered to be orchestrating efforts to rally voters in Saurashtra behind Keshubhai, lost from the Gondal.
In 2007, before the delimitation of constituencies, BJP had won 39 of 52 seats in Saurashtra, while Congress pocketed 12 and NCP one.
This time, out of 48 seats, spread across the 7 districts of Saurashtra, BJP has won 32, Congress 13, GPP two and NCP one.
In Surat, where GPP was expected to perform well as owners of many small businesses and diamond traders have roots in Saurashtra, the party failed miserably with all its candidates losing.
Later, addressing a huge gathering of supporters a triumphant Modi thanked the people of Gujarat for proving wrong the adage that "good economics makes bad politics".
"Today I am proud that people of Gujarat have voted for good governance and development. They have risen above the casteist and parochial politics of the 1980s and rejected politics of false promises," he said.
Apparently taking a dig at the Congress, he said, "Gujarat-baiters are finding it difficult to swallow their defeat. They are saying BJP lost Himachal. BJP's tally in Gujarat alone outnumbers the combined figures of Congress in Himachal and Gujarat."
Amid loud chants of "PM, PM, PM", Modi, whose Prime Ministerial ambition is well known, said," If you want, I will go to Delhi on 27th."
Though he had launched a largely personalised campaign, Modi said,"This is a victory for Team BJP of which I am a small part. Party is always bigger than individual."
Modi, fighting an election for the first time on the development plank in near complete absence of any emotive communal issue, had appeared on a shaky ground following the launch of Gujarat Parivartan Party (GPP) by his predecessor Keshubhai Patel, four months ahead of the polls, particularly in Saurashtra.
BJP's Hindutva poster boy silenced his critics who held him responsible for playing divisive politics in the aftermath of post-Godhra 2002 communal riots to his political advantage. Though he did not field any Muslim candidate, his campaign was largely free from communal overtones.
He was, however, seen to have subtly played the communal card when he said though Congress wanted Ahmed Patel, a Muslim and party president Sonia Gandhi's political secretary to become its Chief Ministerial candidate, it was fighting shy of announcing his name for the top job.
Modi's charisma also helped him overcome the agrarian disaffection following poor rains in cotton and groundnut growing regions of Saurashtra-Kutch belt, considered a bastion of Leuva Patels, the community to which Keshubhai belongs.
Congress's hopes of returning to power in the state after a gap of 22 years were dashed as Keshubhai's party could not make inroads into BJP's Patel, Brahmin, Bania and OBC vote base.
The BJP strongman also successfully neutralised criticism for giving away fertile land to industrialists with voters in the urban and rapidly urbanising areas plumping for him, acknowledging benefits of growth in market economy leading to greater job opportunities.
Though the victory, impressive by any account for a party in power for the last 15 years, may have given a fresh push to Modi's claim for Prime Minister's post after 2014 Lok Sabha elections, BJP sought to skirt the issue.
"We are not a dynastic party, which is led by a Yuavaraj. We function in a pure democratic fashion," BJP chief spokesman Ravishankar Prasad said in Delhi and added Modi has always been an important leader in the party.
"No need of looking behind...FORWARD...we want infinite energy, infinite courage, infinite patience..." Modi said on the microblogging site Twitter, in a comment which many felt hinted at his prime ministerial ambition.
Modi's address to his supporters in Hindi when he spoke mainly in Gujarati during the campaign, was also seen by many as aimed at the larger national audience that betrayed his prime ministerial ambition.