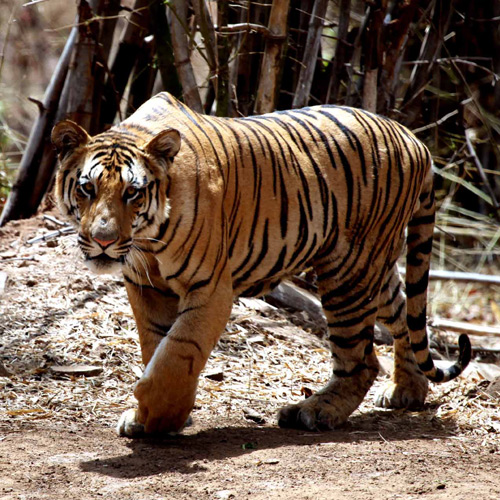 It is nearly ten months since the term of the National Board for Wildlife (NBWL) ended – in September 2013 - but due to policy paralysis that gripped the UPA-II towards the end of its second term, the body was never reconstituted again leaving at least over 120 projects awaiting green clearances.
With the NDA government led by prime minister Narendra Modi firmly in the driving seat now, stiff lobbying has started to grab the positions of NGOs and experts in the committee. NBWL is chaired by prime minister and comprises an array of members, including some MPs. Its primary function is to promote conservation and development of wildlife and forests.
A standing committee of the board chaired by the environment minister, which also comprises several NGOs, is also formed to appraise projects in protected wildlife areas such as national parks, tiger reserves, wildlife sanctuaries or within 10km from them. These positions in the board are always coveted ones for NGOs, conservationists, ecologists and environmentalists. The previous committee's term ended on September 6 last year. After that, a list of around 50 wildlife experts was sent to the then environment minister Jayanthi Natarajan for selection as expert members in the committee. She, however, didn't take a decision and the file was sent to PMO only by her successor M Veerappa Moily in 2014. "But even the PMO in UPA II didn't take a decision and the file remained pending for the new government," a senior environment ministry official told dna.
Sources informed that the issue, however, is back on the track with reconstitution of NBWL and its committee set to find a place in 100-day agenda of the new environment minister Prakash Javadekar, who has already announced faster clearances from his ministry to push growth. Thus NBWL is holding back more than 100 projects – big and small – for want of environment clearances. "The file for reconstitution of NBWL has already reached the minister. But with the movement on issue, intense lobbying has started by the prospective candidates for a place in the new board of NBWL or its standing committee. Now whatever time will be taken for reconstitution of this body will be due to that only. Also names of several NGOs and experts that were sent during UPA regime are also expected to be replaced with new names," sources claimed.
There are easily over 120 such proposals that are stuck due to absence of the NBWL's committee.
They included projects like construction of 520 MW hydroelectric power project on river Teesta in Sikkim, about four kilometres from the Fambonglho Wildlife Sanctuary, diversion of forest land from the Trishna Wildlife Sanctuary for construction of a new railway line between Agartala and Sabroom (Tripura) and permission for control of fencing and patrol road on the Indo-Bangladesh border in Dampa Tiger Reserve (Mizoram).
Many other projects are related to construction of roads, highways and electric transmission lines passing through the protected areas across India are also among that list.
Apart from reconstitution of NBWL and its committee, a senior environment ministry official said "faster green clearances to mega infrastructure projects, reducing green clearances pendency and appointment of Central Pollution Control Board chairman" are among the issues in environment ministry's 100 day plan.
Javadekar already has announced big policy changes for defense projects within 100km of the Line of Actual control near Indo-China border. "Policy decision on violate-inviolate forests area which would mark forests where mining can be allowed and where it can't be is another major important decision that could have long term impact on country's growth and thus is high on list," the senior environment official added.