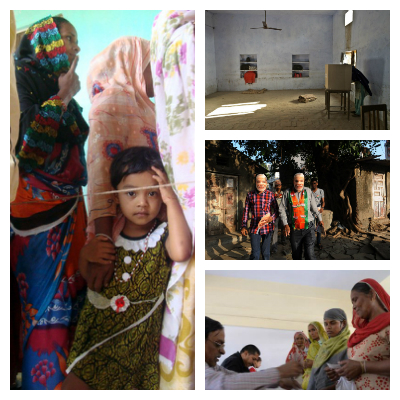 A quarter of the electorate in Chhattisgarh's Bastar Lok Sabha constituency cast their ballots by afternoon as polling got delayed in at least 11 places as officials failed to reach there.
A Chhattisgarh state Election Commission official said that till 10.00am, 18-20% votes were cast. By afternoon, the numbers went up to 27-28%. Polling was largely peaceful.
Polling officials failed to reach seven places in Sukma district and two places in Bijapur. In Jagdalpur district too, polling was delayed in two places as the poll authorities were not able to reach the polling centres.
There was a healthy turnout of voters in urban areas like Jagdalpur town.
However, the enthusiasm was comparatively much lower in the interior, forested areas dominated by Maoists. The polling was sluggish.
Over 1.29 million voters will decide the fate of eight candidates in the constituency where roughly 80% of the total 1,797 polling booths have been declared "ultra sensitive". The remaining 10 seats will see polling April 17 and 24.
Bastar, which comprises six assembly segments, has more female voters at 665,290 than 633,681 male voters.
The main contest is between Bharatiya Janata Party nominee and sitting MP Dinesh Kashyap and Congress candidate Deepak Karma, son of the late Mahendra Karma, the founder of the controversial Salwa Judum civil militia movement.
Aam Aadmi Party's Soni Sori, a tribal woman from the district now on bail after facing charges of acting as a conduit for Maoists, is also in the fray.