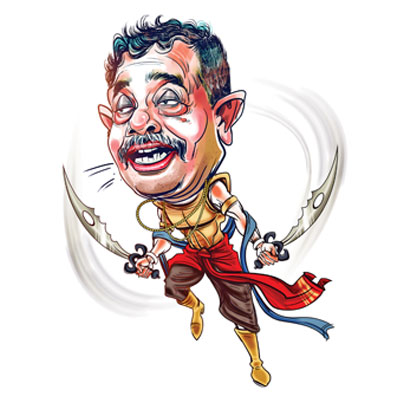 Bidi workers in country's one of the most backward districts may well decide the fate of president Pranab Mukherjee's son, Abhijit, the sitting MP from Jangipur on Thursday.
With old ally Trinamool Congress throwing in their hat in the ring, Abhijit is already facing an uphill task. In 2012 too, he had barely managed to win from here replacing his father who became the president and thus vacated the seat. Abhijit got 3,32,919 votes as against CPI(M)'s Muzaffar Hussain who polled 3,30,383. In 2009, Mukherjee Sr had won with 1,28,149 votes.
While CPI(M) has again fielded Muzaffar, Trinamool has fielded Haji Nurul Islam. Both are from the minority community who comrpise 70% of the population in this constituency.
The plight of bidi workers, the largest single economic group in the constituency, whose wages were unchanged for years together, coupled with scarcity of drinking water, rapid erosion of Ganga and lack of industrialisation are some of the issues that are haunting Abhijit this time. Abhijit brushes aside any anti-incumbency feeling, blaming, instead, "irrational expectation" of some from a president's son.
Asphalt roads that helped poor farmers get good price for their land as well as the upcoming military cantonment in Nabagram and a campus of of Aligarh Muslim University spread over 150 acres are some of the achievements Abhijit lists. "These projects will change the face of Jangipur for ever. Yes, Murshidabad is one of the most poor districts. But who is responsible for this? Not me but those who ruled the state for many years," Abhijit retorts.
Abhijit does not see Trinamool as much of threat. "Mamata is having a rally here where actor Dev has been invited. It shows the local Trinamool leadership is not quite confident of winning. My confidence comes from the 2013 panchayat polls in Jangipur in which Congress won the maximum number of zilla parishads, panchayat samitis and gram panchayats and also the maximum votes polled in total. If the same pattern continues, I am ahead of my nearest rival CPI(M) by at least 35,000 votes. TMC does not figure here," Abhijit told dna.
The voters too have mixed opinion. "Several shops and godowns have sprung up in the last five years only because of the asphalt road built by him," said Palash Majhi, a rickshaw driver who ferries people, sometimes, to Abhijit's house. But that does not make Majhi a happy man. "Look at the pipe that carries drinking water to the entire Jangipur. It's so thin walled and narrow that there are frequent breaches and contamination. The contractor must have made a fortune from this. The president's son could have done better," Majhi says cycling along Jangipur's main thoroughfare.
"Its strange that despite being next to the 1100MW Sagardighi thermal plant, power for irrigation is really poor. We get only eight hours of power against an assured 12 hours of supply," said Anamul Haque, a farmer at Moregram, waiting for a ride to the station.
"Only a few trains halt at Jangipur making commuting to cities like Kolkata difficult," said Haque. That's what Abhijit terms as a case of unrealistic expectation from him. "People want to see the station became a junction. But it can happen only when there are possibilities of track diversion for which you need to acquire land. Is it so easy?'"
Trinamool candidate Haji Nurul Islam is highlighting another major socio-economic problem — the plight of the bidi workers, the largest single economic group in the constituency. "During the Left regime, the bidi workers worked for Rs55 a day. It was Mamata Banerjee who jacked it up to Rs95 a day," says Islam promising to further increase it to Rs170. With Islam, who has worked among the bidi workers in Basirhat, expected to cut into Congress' traditional vote bank and with BJP's Samrat Ghosh take away a chunk of Hindu voters, it is the CPI(M) that might narrow down the thin margin and may even emerge winner.