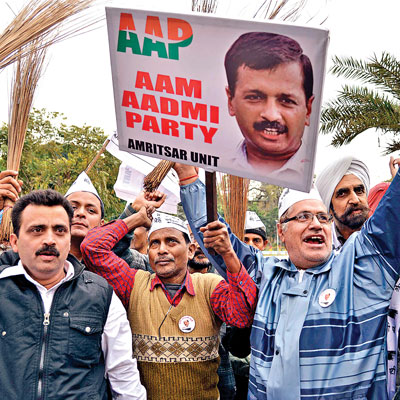 Just a day after Arvind Kejriwal quit as the chief minister of Delhi, the Aam Aadmi Party (AAP) announced to take their anti-corruption drive to the national level. AAP workers held a conference outside Kejriwal's house on Saturday announcing the Jhado Chalao Yatra, a national campaign to "clean up the corrupt system".
Aam Aadmi party leaders Yogendra Yadav, Prashant Bhushan, Ashutosh and Sanjay Singh held an impromptu conference on Saturday afternoon outside Kejriwal's house on Tilak Lane expressing their support towards Kejriwal's resignation on Friday night following a tumultuous bid to table the Jan Lokpal in the Delhi Assembly. They further said that both the Congress and the BJP were instrumental in the dissolving of the AAP government in Delhi, and if a stable government was the issue then the Congress and the BJP were welcome to form a new government.
In the conference they announced that the nation-wide anti-corruption drive Jhado Chalao Yatra will start on February 23 with a rally from Haryana, following with another at Kanpur on March 2. The AAP plans to take the week-long drive to over 2,500 places in 332 constituencies across 24 states, concluding it at Rohtak.
The mood outside the Kejriwal's residence was a sombre one with some AAP workers seemingly disillusioned over the events of the past few months, while various groups of people berated the loss of a people's CM. 18-year-old Kunwar C Chauhan, hailing from Rampur district in Uttar Pradesh, had given up his studies to be part of AAP. His 12th standard board exams starts from March 3, but Chauhan who left home in January to be part of AAP, now lives in gurudwaras while working for the party.
"I have been a worker since last year, but this year I resolved that I will have to be apart of the party. I thought that there is nothing left to study, the greater cause of the country is bigger. But, the directive that the party is taking at this point is not something that everyone agrees with. Some workers are rising within the ranks, and they are taking decisions without the consent of the entire party at large," said Chauhan. "The original decision was be the opposition, but I guess politics changes things. But, if parties like the Congress and the BJP could not deliver in 60 years, how will AAP deliver in barely two months?"
The was also a group of home guards, whose contract had ended early this year. Kejriwal had promised to renew their contract, and now with him gone they were unsure of what to do. "CMs will come and go, but nobody thinks of the real aam aadmi. What will we do now, without a livelihood? These politicians show you dreams that they never deliver on," lamented home guard Ramesh.