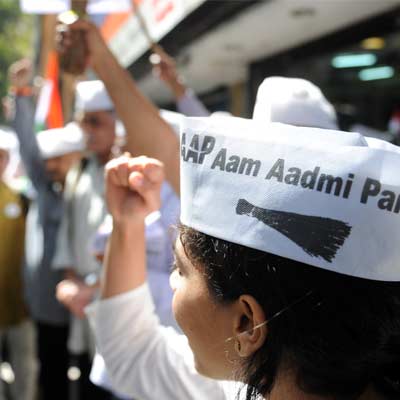 The Aam Aadmi Party candidate from Nalanda Parliamentary constituency, Pranab Prakash was allegedly roughed up by a group of people and his car attacked during campaigning.
Official sources said here today that Prakash was on campaign trail in Utarphu village under Bind police station of the district, about 20 km from district headquarters, when the incident took place last night.
"I was on my way when I was stopped by around 25 people. I was dragged out of my car and they hit me on my head with lathis," Prakash said.
A large number of his supporters later staged protest outside the residences of District Magistrate and Superintendent of Police blaming ruling Janata Dal (United) men for the ruckus.
Nalanda Lok Sabha seat, which is native place of CM Nitish Kumar and will go to votes on April 17.
While the Janata Dal (United) has fielded Kaushlendra Kumar, the Congress has nominated former state police chief Ashish Ranjan Sinha as joint candidate of the party and Rashtriya Janata Dal.
BJP has extended support to Lok Janshakti Party, which has fielded Satyendra Sharma.