AAP leaders accuse media of "twisting" news in favour of Narendra Modi as Prime Minister.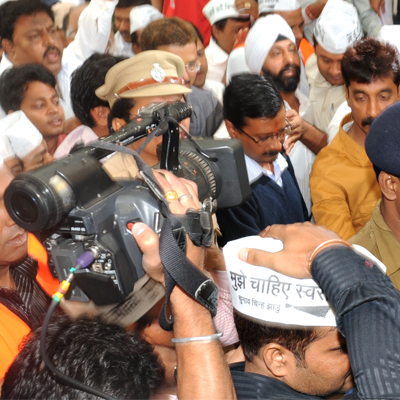 A press conference called by Aam Aadmi Party leaders after television channels aired Arvind Kejriwal's remarks today saw AAP leaders and journalists enter into heated arguments.
The AAP leaders put a strong defence of their leader Kejriwal's remarks in Nagpur last night that the whole media was sold and heavy payments have been made to project Modi for Prime Ministership. He had also threatened to put the media in jail after an enquiry if AAP comes to power.
The moment the 35-minute press conference started journalists began grilling AAP leaders- Sanjay Singh and Ashutosh and Ashish Khetan, both former journalists- asking them for evidence to the charge that the "entire media was sold".
Singh said the channels were "twisting" news and were projecting Modi for Prime Ministership. He cited the instance of channels reporting that Kejriwal had told a meeting in Mumbai that he would prefer Modi to BSP leader Mayawati.
Then when pressed to disclose the names of the channels indulging in paid news, he named four of them and said the AAP would lodge a formal complaint with the Election Commission.
"Arvind Kejriwal has said that a section of media was implementing the agenda of Modi and BJP. His comments were directed against them. His comments were against those who distort news and resort to paid news," senior party leader Sanjay Singh told a press conference here.
Read more: AAP defends Arvind Kejriwal, says 'paid media' sin for democracy