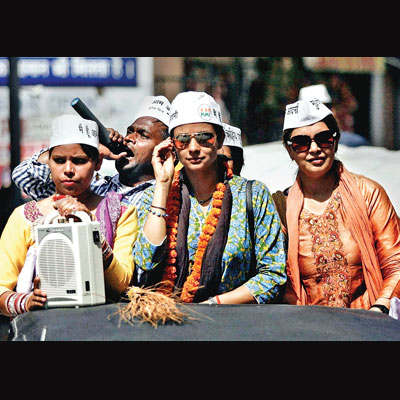 Women and the economically weaker sections may get special weightage in reservation in government jobs and education if the Aam Aadmi Party (AAP) comes to power at the Centre.
Currently, reservation is extended to Scheduled Castes (SCs), Scheduled Tribes (STs) and Other Backward Castes (OBCs) in government jobs as well as in government-aided higher education institutes. The Supreme Court has said that reservations, in any sphere, cannot exceed 50% of the total number of seats. Reservation has been a contentious issue in the country. In 2006, there were nationwide anti-reservation protests over a proposal to provide reservation to OBCs in higher education institutes. Similar agitations had gripped the country in the 1990s when the then Prime Minister VP Singh announced reservations for OBCs.
But while upholding constitutional provision of offering caste-based reservation, AAP has decided to offer special weightage to women and economically weaker sections of Scheduled Castes (SCs), Scheduled Tribes (STs) and Other Backward Castes (OBCs).
"We, however, feel that there needs to be provision for special weightage within the total reservation quota for women, for economically weaker sections and also for bridging the huge urban-rural divide," a senior AAP leader involved in formulating the party's policies told dna.
"At present, we have reservation provisions in higher education institutions. But there needs to be provision for reservation in education sector at the primary- and secondary-level because children need to first reach that level of higher education," the leader added.
AAP leaders believe the decision to focus on giving more opportunity to women and EWS may help the party's fortunes as they are two important vote banks. Besides, providing a kind of a sub-quota or special weightage for reservation to women and EWS will solve two problems — one of gender divide and another regarding the creamy layer repeatedly reaping benefits of reservation, explained AAP sources.
The AAP leader explained that AAP's view on the issue has been arrived at after deliberations with leaders and experts within and outside the party. The view, however, still does not have the stamp of AAP's Political Affairs Committee. But since most senior leaders are on board, the view is likely to be finalised