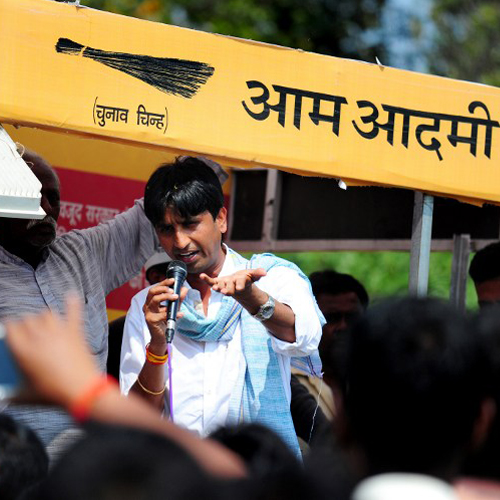 The Aam Aadmi Party (AAP) on Wednesday warned that an emergency-like situation is prevailing the Amethi Lok Sabha constituency of Uttar Pradesh, given the high political stakes involved. "An emergency-like situation is prevailing in Amethi. Rules are being used to favour one party (the Congress). This is a mockery of democracy," AAP leader Dilip Pandey told ANI.
The Times Now television channel also quoted contesting Bharatiya Janata Party (BJP) leader Smriti Irani, as allegedly saying on Twitter that Priyanka Gandhi Vadra's personnel assistant was doing the rounds of several polling booths in Amethi to assess voter turnout and trends.
Amethi has acquired a high profile status because of the candidates contesting the seat. They include Congress vice president Rahul Gandhi, BJP women's wing chief and television actress Smriti Irani and AAP leader Kumar Vishwas.
Earlier on Wednesday, Rahul Gandhi had objected to the drawing of a lotus, the poll symbol of the BJP, on a blackboard at a polling booth in the parliamentary constituency from where he and his rivals are contesting. He also took a jibe at BJP prime ministerial candidate Narendra Modi, when he said people's thoughts and actions are low, not their caste. "Neech karm hote hain, neech soch hoti hain, neech jaati nahin hoti (deeds are low-level, thinking is low-level, but not caste)," Rahul told media here.
Rahul's comments came in the backdrop of Modi's remark that he is been targeted as he comes from a lower caste. In reply to Priyanka Gandhi's barb aimed at him for practicing 'low-level' of politics, Modi has tweeted stating that he was targeted as he belonged to a backward caste, "I belong to lower caste of society, that is why they think my politics is 'low-level' politics."
While campaigning for BJP candidate Smriti Irani in Amethi on Monday, Modi accused the Congress party of being arrogant, and criticised former Prime Minister Rajiv Gandhi for being arrogant, reminding the public as to how he publicly humiliated former chief minister of Andhra Pradesh, T Anjaiah at an airport when Rajiv Gandhi was general secretary of the party.
Hitting back at Modi, Priyanka had said, "They have insulted my martyred father on the soil of Amethi. People of Amethi will never forgive them for this act. Workers in Amethi will reply to their (BJP's) low-level politics. There will be reply from each of the booths."
Kumar Vishwas on Wednesday expressed confidence that the people of the area will vote for him, and added that it is first time that an election is actually taking place in Amethi. "This is the first time that an election is actually taking place in Amethi. Our penance of four months and visiting 1,200 villages will pay off. We have heard the problems of people here and spent nights," said Vishwas, who is challenging Congress vice president Rahul Gandhi and BJP's Smriti Irani. "The youth have turned up in great numbers. There are long queues in each and every polling booth. Last time, there was 40% voting in Amethi, but, I am pretty confident that there will be around 60-70% voting this time," he added.
On Rahul Gandhi visiting Amethi on a polling day for the first time in a decade, Vishwas said, "Everyone has to come down to the battlefield. We had said earlier also that we are not here to do politics, but to change it. And politics has changed, so has Amethi. Chal gayi Amethi mein Jhaadu. (The broom is sweeping through Amethi)".
Sixty-four Lok Sabha constituencies spread over seven states and 175 assembly constituencies in the Seemandhra region went to polls early in the morning amid tight security.
Today is the eighth and penultimate phase of the Lok Sabha elections. The Lok Sabha constituencies going to polls are 25 in Andhra Pradesh, 15 in Uttar Pradesh, seven in Bihar, six in West Bengal, five in Uttarakhand, four in Himachal Pradesh and two in Jammu and Kashmir.
Prominent candidates in the fray are Congress Party vice president Rahul Gandhi, Union Steel Minister Beni Prasad Verma, Union HRD Minister MM Pallam Raju, ex-Indian cricketer Mohammad Kaif and television actress Smriti Irani. Varun Gandhi, Rajiv Pratap Rudy, Anurag Thakur, Ram Vilas Paswan, Rabri Devi and Kumar Vishwas are the other prominent leaders whose political future will be decided today.
The Election Commission has reportedly taken several steps to ensure free and fair polling during the last two phases of the general elections.
Also Read: Live updates of the eighth phase of the Lok Sabha elections