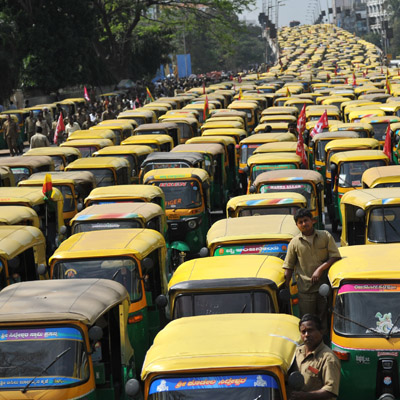 The Aam Aadmi Party (AAP) is probably the only political party in the world that has an 'auto cell', the 'auto' representing the 100,000-plus autorickshaw drivers who eke out a living driving autorickshaws, a solid chunk of votes if they vote en masse for any one party.
In the last Delhi Assembly elections, the majority of autorickshaw drivers voted for AAP, and the party romped home in many seats, catapulting Arvind Kejriwal into the CM's chair. Then, Kejriwal & co quit and AAP delivered a dud in all seven Lok Sabha seats in Delhi.
Right now, autorickshaw drivers are divided between AAP and BJP though the count will still go in favour of AAP. With another round of Delhi elections slated, AAP and BJP are fighting an 'auto-war'. Both parties are out to prove who serves the interests of autorickshaw drivers more.
The Bharatiya Mazdoor Sangh (BMS), BJP's trade union arm, called for a day-long auto-strike on Monday. Drivers aligned with AAP were forced to fall in line. Apprehensions that the strike may take a violent turn, and that their autorickshaws would be singled out and targeted kept them off the road. By noon of Monday, the BMS claimed victory, and called off the strike after a spell of talks with traffic police officers. AAP called it a sell-off, and a staged reconciliation. "The BJP sponsored strike failed, the settlement is a farce," Durgesh Pathak, AAP leader incharge of AAP's Delhi unit, told dna. "The strike was against traffic police harassment but the harassment continues."
AAP's response to the BJP-sponsored strike is a mahasabha at Ramlila Grounds on July 31 to be addressed by Kejriwal. "We have invited all autorickshaw drivers of Delhi to the meeting. Autorickshaw drivers are at the mercy of traffic and other policemen. They are fined for no fault. Autorickshaws that predate 2005 are not allowed to fill up CNG," Pathak said.
Rajendra Soni, general secretary of the Delhi Auto-Rickshaw Sangh supported by BMS, said there was nothing "political" about Monday's strike. He said auto drivers have been at the receiving end of both politicians and police. Autorickshaw drivers aligned with AAP say Soni is pitching himself as the sole leader of autorickshaw drivers. Sanjay Chawla, coordinator of AAP's auto-cell, said Soni was backed by the BJP and that the BMS strike failed.
The advent of the Delhi Metro had soured the run for autorickshaw drivers for a while. They had to shift gears and start all over again. Then, when metro trains became a tight place to stand, many commuters went back to the auto for thier ride home and to office. In the midst of the auto war, it is the common commuter who is again caught in the crossfire.