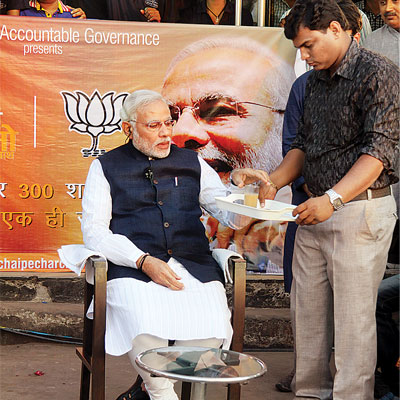 For 29-year-old Mandeep Patel, it was a stroke of good luck that made Gujarat chief minister and Bharatiya Janata Party's prime ministerial candidate Narendra Modi select his humble ganthiya shop on Ahmedabad's SG Road for an evening of high tea on Wednesday.
The owner of the stall, Patel himself served tea and water to Modi as the latter sat in a plastic chair by the roadside for his first chai pe charcha (discussion over tea), telecast live at 1,000 places in 300 cities across the country. Surrounded by cameras, massive TV screens showing the 'interaction' and a few hundred BJP workers in live audience, the posh locality of Ahmedabad got a taste of Modi's PR machinery at its peak.
Chai pe charcha is a throwback to Modi's days as a tea-stall worker (chaiwala). In India, millions hang around at roadside tea stalls to chat and catch up on gossip. With the express purpose of connecting with these millions on their platform as a common man (aam aadmi), NGO Citizens for Accountable Governance organised the interaction in 300 cities simultaneously. The year-old NGO was conceived and managed by Modi's advisor Prashant Kishor. It mainly consists of upwardly mobile students and young professionals, who have access to Modi and work as his core outreach team. They organise public events designed to reach out to the youth and the urban elite.
On Wednesday, the NGO's volunteers facilitated live questions for Modi from crowds gathered at pre-dentified tea stalls in a manner akin to that of TV news reporters. During the interaction, which lasted for more than two hours, Modi fielded queries ranging from dealing with unemployment, law and order issues, black money, etc
In response to a question on black money, Modi said, "We will bring back each and every penny deposited abroad by Indian citizens. Only the next government will be able to do this and this is my personal commitment. Whatever money is brought back, 5 to 10 per cent of it will be given as a 'gift' to those salaried class, who earn fixed income and honestly pay taxes. I am committed to this because this money belongs to the poor people of India."