On Sunday, a day after announcing itself as the Aam Admi Party, the party's national executive held its first meeting at member Prashant Bhushan's house and decide its office-bearers.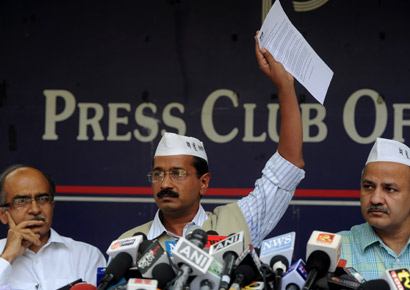 A day after announcing itself as the Aam Admi Party, the party's national executive held its first meeting at member Prashant Bhushan's house to decide its office-bearers. After deliberations that went on for a few hours, it was decided that Arvind Kejriwal would be the party's convenor.
In addition, Pankaj Gupta was elected as the national secretary and Krishna Kant Sanju as the treasurer. "The national executive will meet again on Tuesday to decide on the course of action ahead," Bhushan said. He said the office-bearers would now finish the formalities associated with registering the new party.
All 23 members of the executive were present at the meeting. Seven more members are expected to join soon, after which the number of members would touch 30.
In addition, seats would be reserved for those from the backward communities and women, if found under-represented. As of now, the executive list has just two women, Shazia Ilmi and Christina Samy.
The executive members include those associated with social movements like Ajit Jha of the Jan Parishad, Subhash Ware of the Socialist Foundation, Yogesh Dahiya of the Saharanpur Sugarcane Farmers Forum. A member of this executive, newly associated with the movement, told DNA he was hopeful and excited about the party after witnessing the tenor of discussion held a day before at the national council meeting. "There were discussions on health and education, issues which are of concern to the people", he said.
Earlier in the day, party members Arvind Kejriwal, Manish Sisodia, Kumar Vishwas, Sanjay Singh, Illiyas Azmi and others addressed a meeting at Samtha Sthal near Rajghat. The meeting was planned specially at targeting the youth, which as Kejriwal said the day before, would be a major support base for the party. Kejriwal made them make three promises- never to take or give bribes, participate in voting and never vote according to caste or money considerations. The team is now all prepared for its launch on Monday at Jantar Mantar.
The team also took a jibe at Congress general secretary Digvijay Singh over his remarks against Kejriwal.
Founder member of AAP, Kumar Vishwas, termed Digvijay Singh 'a very disciplined cadre of the RSS and anti-Congress parties' and said: "I challenge Mr. Digvijay Singh that ask their most beloved and popular leader, Rahul Gandhi, to come out from parliament and contest the by-elections form Amethi against Arvind Kejriwal. We will teach him a lesson that how election now will be fought in the country," said Vishwas.
Digvijay had alleged Kejriwal of intellectual bankruptcy for naming his party after the Congress' plank aam aadmi (common man).