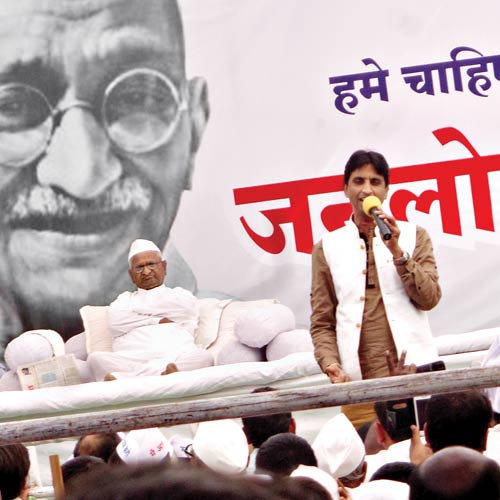 The Aam Aadmi Party stole the show on the third day of the indefinite fast by of anti-corruption crusader Anna Hazare for Jan Lokpal Bill on Thursday. The party announced its support for the Gandhian's cause and that its member Gopal Rai would join the fast from Friday morning.
A three-member AAP delegation comprising Kumar Vishwas, Sanjay Singh and Gopal Rai visited Ralegan Siddhi on Thursday after Arvind Kejriwal cited his inability to make it because of ill-health.
Subsequently, Hazare called up Kejriwal and asked him to maintain good health for the long battle ahead of him. Kumar Vishwas said that during their discussion Anna congratulated the AAP for its success in Delhi. He said, "Anna had a long conversation with Arvind and told him that the latter cannot afford to take ill since he has to fight a long battle ahead."
Cashing on the huge public support, Kumar announced unconditional support to Anna. While admitting that the AAP had committed mistakes while entering politics and being novice, Vishwas said that Anna is Chanakya for the AAP that is like Chandragupta Mourya.
He said that the veteran anti-corruption activist was nucleus while the AAP was like an atom that would keep on revolving around Anna.
The pandal outside Yadavbaba Temple in Ralegan Siddhi where Anna is on hunger strike was crowded with AAP supporters.
Reacting to NCP chief and union minister Sharad Pawar referring to the AAP as an "army of jholiwalas", Vishwas said, "The party (Congress) with which Pawar is running the government in Maharashtra is already packed in AAP's jholi in Delhi and AAP would bag Baramati Lok Sabha seat now." The AAP delegation announced that it would contest the Lok Sabha elections in Maharashtra.