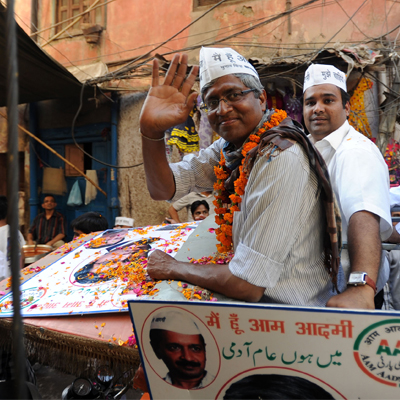 The journalist-turned-politician, Aam Aadmi Party's spokesperson Ashutosh, is in Varanasi to campaign for AAP leader and Lok Sabha candidate from Varanasi Arvind Kejriwal. Ashutosh left from Delhi for Varanasi on Friday in Garib Rath and was sheduled to reach his destination on Saturday morning.
Good morning. I am still in train and about to reach Varanasi. My birth place. Very excited to be here.

— ashutosh (@ashutosh83B) April 19, 2014
The AAP spokesperson will campaign from the temple city and ask for votes from the residents of Varanasi for Kejriwal. However, the question is whether he will be able to achieve something substantial or will meet the same fate of criticisms and oppositions as Arvind Kejriwal. In Delhi too, Ashutosh had to face the defiance of citizens, when he was forced to return without meeting people and listening to their problems, for which he was present in the first place.
The Aam Aadmi Party had to face resistance in Varanasi from the day Arvind Kejriwal arrrived in the city. His road-show in the holy city was maared by eggs and black ink being thrown at him and other AAP leaders. There was also a poster attack on Kejriwal calling him a 'deserter', as he arrived in Varanasi for a month-long campaign.
Ashutosh is contesting the Lok Sabha elections from Chandni Chowk constituency. Varanasi goes to polls in the ninth and the last phase of Lok Sabha elections on May 12.
(Keshav Yadav reports for DNAofIndia.com - India's hyperlocal news service)
(Transcribed by Khanjan Ravani)