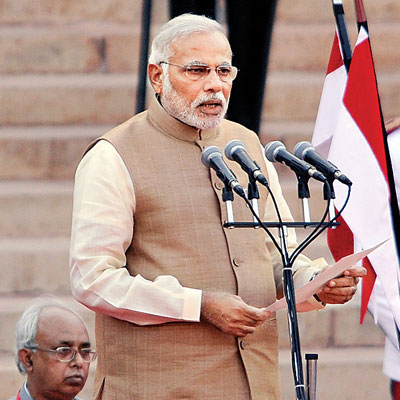 Narendra Modi's moment of reckoning came and passed. Others may be in store. But, for now, Modi has proved his substance. It did not take him long to do so. Seven days!
The first signs are satisfying. He hit the ground running. Got a lean-mean ministry in place. Scrapped GoMs and EGoMs. Asked ministers to desist from hiring family members. Instructed cabinet ministers to involve MoSes in running ministries. Allocated Rs 1,00,000 crore for toilets... Article 370? That was foot-in-mouth. So far, Modi has kept off contentious issues.
Modi's supporters are thrilled. His critics in the media have retreated. "What a beginning it has been for Narendra Modi. He has hardly put a foot wrong...," wrote Outlook editorial chairman Vinod Mehta, a self-confessed pseudo-secularist.
But the Congress refuses to relent. "There are certain traditions, practices and mannerisms in the country which call for collective responsibility and utility of collective wisdom... But we are seeing that all powers are being vested to the PMO," said Congress spokesperson Randeep Surjewala.
The BJP anticipated such a remark. "For 10 years, there was no leadership but since (sic) ten days there's been complete leadership. The previous government had no mission without commission. But we believe in mission without commission. There's a been a paradigm shift in Indian politics," I&B minister Prakash Javedekar said a few days ago.
It's Modi who has brought that paradigm shift. His "diplomatic coup" took the cake. That firm handshake with Pakistan prime minister Nawaz Sharif shook up the opposition. World leaders are impressed. The US is eager to engage Modi. China and Japan are waiting in the wings.
His other big coup, formation of a lean-mean council of ministers, almost went unnoticed. Forty-five ministers, many of them first-timers, and 10 with "independent charge". Modi warned his ministers to keep a clean slate. It would go hard on them if they involved "family" in tender business. Modi's minimum government with maximum governance is shaping up.
On May 27, Modi had a one-on-one with all seven SAARC leaders. The meeting with Nawaz Sharif was the coup de grace. It left his "enemies" in both countries squirming. Congress asked Modi to take the photo-op and leave it there. Modi took the photo-op as well as whatever came with it. Sharif was impressed. So was Sharif's daughter. And Sharif's "old mother", too.
"It was a command performance from a man some people had said would not know negotiation from nuance though both go together," said a Congress leader.
Rajapakse and Sri Lanka was another different cup of tea. Tamil Nadu chief minister J Jayalalithaa boycotted the swearing in. Modi didn't lose sleep. He spoke to Rajapakse and also got some Tamil fishermen released from Lankan jails. Jaya came to Delhi on Tuesday and met Modi. There were nuances to that meeting, too. Modi doesn't need allies. Unless they come on his terms.
Meanwhile, an ordinance got Modi the principal secretary he wanted. There is no "Yuvraj" around to tear up this ordinance. Modi has told bureaucrats to be on their toes and think out-of-the-box.
There's abuzz in North and South blocks. For the first time in 10 years, PMO is King. With the cool demeanor that marks the man, PM Modi has made it clear that the buck stops with him.