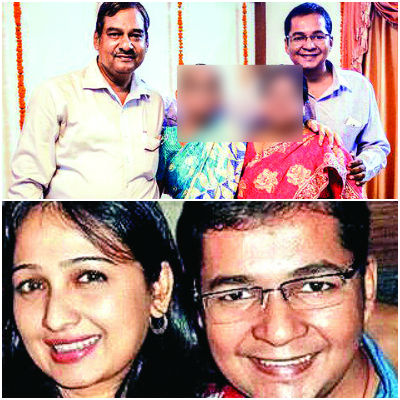 It's a case that has twists and turns like a Bollywood pot-boiler.
A young marketing professional who married an upcoming actress has gone missing from Kandivli from June 27. Before he went missing, 27-year-old Chirag Bagaria, had sent a text message to his father saying he was fed-up with life and blamed his actor-wife, Nushrat Sharmin, and her friends for the trauma in his life.
Sharmin, in the meanwhile, is believed to have gone to the US. The starlet, who has worked in a few South Indian movies, had filed a dowry harassment case against Chirag and his family this March, and Chirag had been arrested following this complaint.
A marketing professional, Chirag, married Sharmin, a Bangladesh-born US citizen, under the Special Marriage Act in June 2013.
According to Chirag's father Sunderlal Bagaria, the two met at a party in 2012 and fell in love, and after marriage they started living in a rented house in Goregaon (East).
Sharmin was a struggling actress and was keen on entering Bollywood, and Chirag reportedly had some connections in the film industry.
"In Nov 2013, Sharmin signed a Malayalam film as a lead actress and went to Kerala for the shoot," Bagaria said. According to Bagaria, things started changing once Sharmin came back. "She now was a lead actress and her purpose of marrying my son had been served. She told my son to leave the house, and things were not the same between them any longer," said Bagaria.
"As Chirag tried to salvage the marriage, Sharmin asked him to extend her visa for another two years. My son then realised he was being taken for a ride," he added.
On March 6, Sharmin registered a dowry harassment/domestic violence/abuse case against Chirag, and he was arrested the very next day.
"Chirag told me Sharmin's friends were misguiding her and spoiling the marriage," said Bagaria.
Chirag got bail the next day, and was informed that Sharmin had gone to Chennai to complete her film. Police reportedly advised Chirag to leave his flat.
"When my son went through the files he had collected from his place, he found that Sharmin had two passports and two Aadhar cards. He immediately informed the FRRO office," Bagaria said.
According to Bagaria, Chirag had met several senior police officials in connection with the case. "He even met Mumbai police commissioner Rakesh Maria on April 19," Bagaria said.
He further alleged that on June 27 (the day Chirag went missing) when he and his son were sitting at their lawyer's office, Chirag got a call on his mobile phone. "When I asked, Chirag said it was from Denise Anthony D'Silva (Sharmin's friend). Chirag immediately left saying D'Silva had called him and that he was going to meet her," Bagaria said.
"That was the last time I saw Chirag. We tried calling him and messaging him, but he did not reply," Bagaria said. "My heart sank when I received a message from Chirag saying he was about to end his life and that Sharmin and her friends are to be blamed," lamented Bagaria.
Bagaria then approached the Kandivali police and filed a missing complaint.
"We have registered a man missing complaint and are trying our best to locate him," Mahipati Pandharmise, senior police inspector of Kandivali station said.
When dna contacted D'silva, she had a different story to tell. "Sharmin had told me that Chirag was forcing her to become a Hindu. He wanted her to give up her career and become a housewife," D'Silva said.
"After her marriage to Chirag, Sharmin's student visa was converted to an X visa (spouse visa). After a week of the marriage Chirag began threatening her that he would cancel her X visa if she did not give him money," D'Silva alleged.
When asked about Chirag naming her in his last message to his father, D'Silva said: "I, as a woman, helped another woman in distress."
She also alleged that Chirag hadn't gone missing. "He is absconding as he knows the wrong things he has done. He even threatened me over SMs, and records of it are with me," D'Silva said.
Father threatened
On May 14, Sunderlal Bagaria, Chirag's father, registered a case of extortion and threat at Mahatma Phule Chowk police station in Kalyan against two persons, including a lawyer, who was reportedly helping Sharmin. Bagaria alleged that Sharmin, through her lawyer, had hired a contract killer to assassinate him. The Thane police have arrested the alleged assassin, while the lawyer has applied for anticipatory bail.
The starlet
Nushrat Sharmin has acted in Malayalam movies like 'Medula Oblangata', 'Beware of Dogs' apart from a few commercials down south. There is confusion over her correct age as her passports (two) had different birth dates. Currently, she is believed to be in the US.