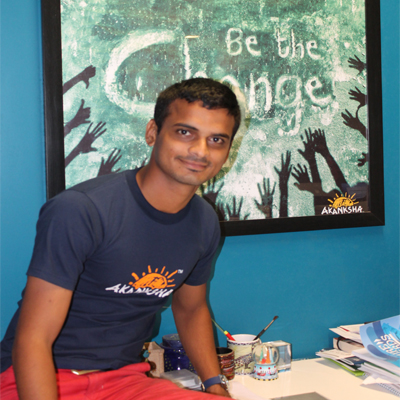 No dream is too bold and no peak is too high to scale, as the results of students at the Akanksha Foundation have proved. Achieving a 100% pass percentage at the Vidya Niketan School (a partnership between the Thermax Social Initiatives Foundation, the Pune Municipal Corporation and Akanksha) is highly commendable especially since only one in six schools across the state have this distinction, most being private schools.
There has been an impressive improvement by the students from 72% achieving distinction/first class to 77% this year, and from 22% in the distinction category last year to 34% this year. The results of students at the Akanksha centres have also improved to a pass percentage of 93%, with 26% of them achieving a distinction and the highest-scorer achieving a remarkable result of 95%. This year, 91% of Akanksha's students passed in the HSC board exams. Remarkably, our highest scorer Salman who secured 81%, had enrolled at Akanksha's Worli 1 centre seven years ago, when he was selling books on the road at Haji Ali and had dropped out of school. He is now pursuing his graduation so he can enroll in the Armed Forces of India.
The performance by other students is equally impressive and each child has a unique success story. When he made the daunting transition from a Marathi-medium school to an English-medium one, little did Swapnil Chavan imagine that he would score 95% in the SSC examination. "Apart from imaginative lessons in the classroom, I was fortunate to receive training at the Jehangir School of Speech & Drama. The mentor program gave me invaluable career guidance while the 'Art for Akanksha' program provided me with a creative platform that has changed my life," he says. Crediting Akanksha's role in the development of his communication skills, he says that he found inspiration in encouraging teachers, newspapers, books and in the writings of the likes of Narayan Murthy as well. His mind is now buzzing with plans and he plans to take up Science and prepare for the IIT entrance examination.
For students like Ujwala Hatkar who scored 90.8% but was still disappointed at missing her personal goal of 92%, Akanksha strives to help them find a balance between not being unduly harsh on themselves while channelising their inner drive. On the other hand, the Akanksha family provided moral support through community prayer for another student Shreya Devakar who was struggling through personal calamities – her father's paralysis and the passing away of her grandmother who had been the rock in her life. Shreya found strength and encouragement at the centre and her SSC marksheet reflects a truly well-earned 92.4%.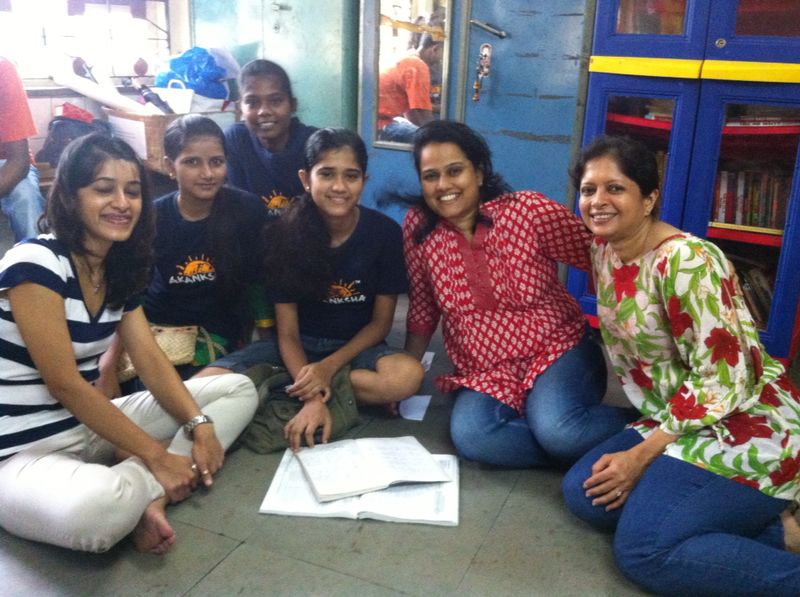 Shreya Devakar (fourth from left) who scored 92.4% in the SSC exam, with her center teachers and peers
Then there's Kaisar from an Urdu-medium school who needed extra help, so the organisation made sure she was enrolled in coaching classes. Her teacher vouches for her sincerity and is justly proud of her 89.8%. Vijaya is another young lady with clear goals. Unassuming, in spite of her 92.1% marks, Vijaya firmly believes in the power of education to change her life and aspires to be a doctor and support her family. Similarly, another student Priyanka also overcame many a hurdle to achieve a staggering 90.8% by sheer hard work.
These are but a few of the moving stories and the circumstances, temperament, needs and abilities of every child is different. Currently, Akanksha is the largest network of urban schools in India that serves the underprivileged sections of society. While teaching both the syllabus and life lessons remains at the core, a lot of effort is also made to provide peripheral support – monetary, emotional, social, psychological and above all, humane.
"These results demonstrate that there exists a unique template for a public-private partnership that can deliver dramatically better outcomes in the important area of education in our government schools," says Amit Chandra, MD of Bain Capital and an active supporter and board member of Akanksha.
"At Akanksha, we believe that the true evidence of the impact of our work will be when our students become adults and need to be independent and competent in the world outside. These results are a significant part of that journey, demonstrating to us that our students have successfully made it past an important milestone in their lives and are becoming capable young adults," says Vandana Goyal, CEO at Akanksha.
Slowly but steadily, Akanksha is catalysing a change to reflect that high scores are no longer the privilege of elite, private schools. It's indeed heartening to see the spirit of enthusiasm in the faces of the children who have done themselves proud. Their faces are beaming, their minds are racing and their hearts are brimming with hope.
The author is Executive Assistant to the CEO at the Akanksha Foundation
The Akanksha Foundation runs 15 municipal schools in Mumbai and Pune in partnership with the BMC and the PMC respectively. Follow them on twitter at @Akanksha_India.