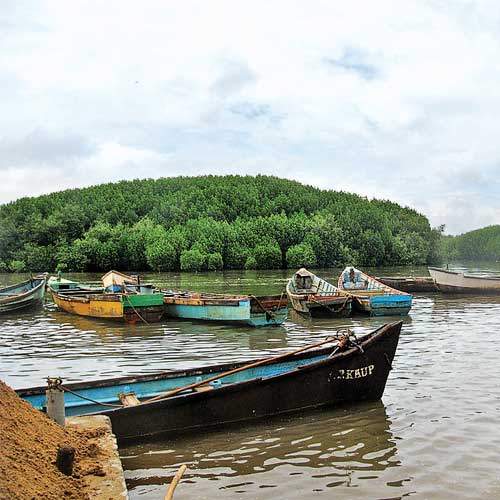 Odisha, which has India's richest mangroves in terms of biodiversity and comes second in the world, lost 9 sq km of mangrove forest in 2011-12. This reversed the trend of actually gaining 1 sq km of mangrove the year before that, reports the Forest Survey of India in 2013. It is believed that the prawn mafia backed by local politicians are to be blamed for the losses. Odisha has just 213 sq kms of mangroves, but it is the most rich ecologically. Bhittarkanika has 62 species of mangroves and associates, unparalleled by any other state in the country.
The Orissa government had promised to plant mangroves after the cyclone of 1999 but they have not been able to protect the existing ones. Funding is however not an issue due to funds pouring in from ICZM World Bank funds and Central government cyclone restoration funds.
Dr Biswajit Mohanty, the secretary of Wildlife Society of India, said in a press release, "The survey also indicates severe breakdown of protection measures of the forest department. Odisha has the fourth largest forest cover among states of the country with 50,347 sq.kms. The state has a very dense forest cover of 7,042 sq km, moderate dense forest cover of 21,298 sq km and open forest 22, 007 sq km as per the latest assessment. Compared to the 2011 FSI assessment the state has added a net area of 1,444 sq km of forest which is an increase of 0.93% of forest cover during the last two years. It has added 1,530 sq km of open forests, while losing 18 sq km of dense forest cover and 68 sq.kms of moderate dense forest cover."
Though the government feels the gain in open forests is due to the work by Forest Management groups, Mohanty feels that the availability of cheap rice and NREGA work has led tribals to not follow shifting cultivation. This has led to increase in open forests.
India's state of forest report which is released every two years said, that forest cover had grown in India by 0.18% from 2011 to 2013. The Forest department must feel proud of it given India's path of development that must divert huge forest tracts to mining, dams or other purposes. According to this report Orissa comes among the top states that gained in terms of forest covers. The states which suffered the most were Nagaland, Andhra Pradesh, Madhya Pradesh, Tripura, Manipur and Arunachal Pradesh.
The loss in the Northeast is alarming as despite it constituting just around 8% of India's geographical area, it contributes a fourth of its forest cover.