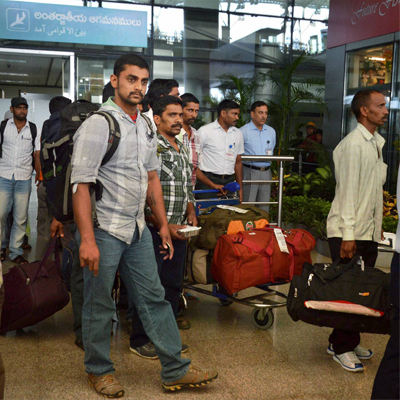 Eighty Indian workers, mostly from Telangana who had been stranded in Iraq for the past few days, returned here this afternoon in a special Air India flight. According to Air India officials, of the total passengers who disembarked in Hyderabad, four are from Chennai.
"We would not have come back had the Indian government not done a timely intervention. We are glad that we are alive and back," Arelli Anjaiah from Karimnagar District of Telangana, who had gone to Iraq four months ago to work in a soft drinks manufacturing factory said. He said he had paid Rs 1.5 lakh to an agent who promised him a job in the soft drinks company with Rs 35,000 salary. "I took a loan to pay the agent. We were not even paid salary for the past two months in Iraq. I came back empty handed from the war-hit country and face an uncertain future," he said.
According to Anjaiah, 73 others, who landed here today with him, also worked with him in the same soft drinks unit. According to another passenger, around 40 to 50 people, mostly from Telangana, are still held up there looking for help.
Narrating his experiences in the strife-torn country, Uppu Prasad, a native of Adilabad district in Telangana, said "it was a war-like situation in Iraq. We used to hear gun fire sounds even outside our company premises. We did not have enough food for the past few days and there was no cook also. After going through these ordeals, we no longer wanted to stay there...Enough is enough."
"I had taken a loan at higher rates to pay the agent. Now I do not know how to repay it. I want the government to extend some kind of help," he said.
Uppu said they have no information about the arrangements made by the state government to proceed to their native places. "We do not have any money in our hand. Most of us are from Telangana. No facility was provided by anybody to go from here to our native place," he said.