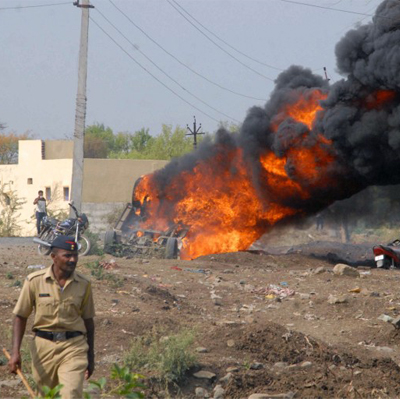 Police have registered cases of rioting-related offences against 79 people following the attack on a police vehicle and stone pelting in the premises of Vaidyanath sugar factory at Parali during the last rites of Union Minister Gopinath Munde.
Munde, a senior BJP leader from Maharashtra, died after a car accident in New Delhi on Tuesday, June 3. He was cremated in Parali in the district on Wednesday. During the funeral, some people in the crowd tried to stop Chief Minister Prithviraj Chavan's car. The attackers indulged in stone pelting and overturned a van of Beed police, setting it on fire. Eight SLR rifles in the van were damaged, police said.
Police Constable Machindra Parmeshwar Kappe was seriously injured in the stone pelting. Parali Police Inspector Sahebrao Narvade said cases of rioting were registered against 79 people. 19 people had been arrested from the spot on Wednesday evening, he added.