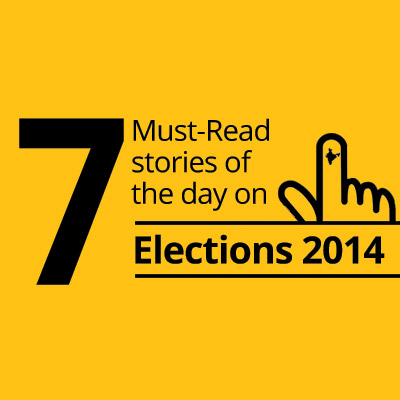 #1 Kashmir on brink after forces kill youth
The Kashmir Valley is seething with anger over the killing of a 24-year-old youth by the security forces at Nawakadal in the sensitive old Srinagar city on Wednesday.
Police said Bashir Ahmad Bhat was killed when security forces deployed for poll duties opened fire after they allegedly came under severe attack by some miscreants in Nawakadal area on Wednesday evening.
# 2 CBI questions ex-coal secretary PC Parakh
The Central Bureau of Investigation on Thursday questioned former coal secretary PC Parakh, 69, for almost eight hours in connection with the coal blocks allocation case. The questioning will continue on Friday.
Parakh appeared for questioning at the CBI headquarters in CGO Complex on Lodi Road in the Capital at around 10:30am and left the premises late in the evening. According to CBI officials, a team of investigators led by an SP level official questioned Parakh. The CBI joint director monitored the process.
#3 Will Reliance Jio's entry to hurt profits of incumbent telcos?
After the superlative earnings performance by Idea Cellular and Bharti Airtel amid increasing data consumption and addition of value customers, analysts are apprehensive whether the renewed optimism in the sector is going to stay for long, given the Reliance Jio's impending entry into the telecom market by the year end.
While Bharti Airtel reported an increase of 89% in net profit for the quarter ending March 31, Idea Cellular clocked 91% jump in its earnings.
#4 Narendra Modi's 'like my daughter' comment makes Priyanka Gandhi bristle
It's a like a family soap opera, the TRP-hyping Priyanka Gandhi Vadra-Narendra Modi to-and-fro. Byte after byte, episode after episode, day after day. There was the "scurrying away like baffled rats" to "why this childishness" and so on and so forth. Now, matters have moved on from the maternal, to the paternal.
To a question asked of him in an interview to Doordarshan, the BJP's prime ministerial candidate Narendra Modi reportedly said that Priyanka "is like my daughter".
#5 Kumar Vishwas: David and Don Quixote rolled in one
This is one contest which will remind one of the David vs Goliath fable where a young poet and fledgling activist-politician displays the audacity to take on the scion of a ruling clan, which has earned itself the sobriquet of the country's "first family". The seemingly puny, though vociferous, challenger also resembles the legendary Don Quixote as he tilts at windmills, for his mighty opponent is contesting in absentia, taking his victory and electors for granted.
#6 It's now formal CBI not to charge-sheet Dayanidhi Maran in 2G case
CBI director Ranjit Sinha is "not in favour" of filing a charge-sheet against former telecom minister Dayanidhi Maran over Aircel-Maxis deal in 2G scam, despite unanimous opinion of the investigating officers and prosecution's team to file the charge-sheet, the premier agency told it to the Supreme Court on Thursday.
Earlier this week, dna first broke the news which said officers from the rank of investigating officials to additional director working on the Airce-Maxis probe opined that CBI has prima facie enough evidence to charge-sheet Maran but Sinha is reluctant saying "evidence is not beyond reasonable doubt."
#7 Saradha scam victims pin hope Mamata Banerjee
At the entrance of the office of Justice SK Sen Commission of Inquiry in Kolkata, there's a list pasted on the wall mentioning the names who are supposed to depose before it. Debjani Mukherjee and Sudipta Sen top the list followed by seven other names along with the companies they represents.
The names of the companies are Golden Parivar Holding and Developers India, Nilakash Agrofirm Projects India, Tower Infotech, Suryanshi Portfolio Management Services, Bethel Homely Savings Corp and Heaven Infra Projects Ltd.