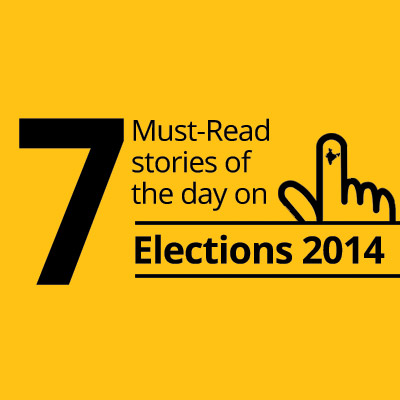 #1 BJP's permutations put Rajnath Singh ahead in Lucknow race
Many middle-rung BJP functionaries at party president Rajnath Singh's election office turn evasive on being asked if caste and community are election issues in this constituency. They simply say that Lucknow is an urban constituency, and 70 per cent of its people are educated and therefore caste and community do not count when it comes to choosing a candidate. They also argue that given the Modi wave, people in Lucknow will vote not for Rajnath or even for the BJP, but for the party's PM nominee Narendra Modi.
Even as mainstream parties create scare about BJP's prime ministerial candidate Narendra Modi among Muslims, members of the BJP's minority morcha are running a silent campaign to convince Muslims to vote for the party.
The members are going to minority-dominated areas, especially religious places like mosques and dargahs in their traditional attire, and communicate with religious leaders like maulanas and members of the community.
#3 On-off pact between TDP, BJP on again
The Bharatiya Janata Party (BJP) has salvaged its pre-poll alliance with the Telugu Desam Party (TDP) in Andhra Pradesh despite its leader, Chandrababu Naidu's last-minute tantrums. A face-saving compromise was worked out following a 10-hour negotiation between BJP's Prakash Javadekar and TDP's YS Chowdhary.
#4 Voter fatigue is a factor, but I have good connect with people: Milind Deora
Milind Deora, 38, is seeking re-election for a third term from the prestigious Mumbai South constituency in the background of a strong anti-incumbency wave sweeping the nation. He is being vehemently opposed by Arvind Sawant of Shiv Sena-BJP alliance and Meera Sanyal of Aam Aadmi Party (AAP), who made an unsuccessful attempt to unseat him in 2009.
#5 Narendra Modi's Urdu website get 86,140 hits in two days
An Urdu version of the website of BJP's prime ministerial candidate Narendra Modi – an attempt to open a dialogue with the Muslim community – has managed to get as many as 86,140 hits within two days of its launch.
The website was launched by Salim Khan, father of actor Salman Khan, along with businessman Zafar Sareshwala and BJP state treasurer Shaina NC at Salim Khan's Bandra home on Wednesday. Khan had told media persons that launching the website in Urdu was an excellent initiative. Khan said Urdu is a beautiful language and he is extremely happy that this innovative idea, which was suggested by him, has been accepted and implemented.
#6 VK Singh flays govt for appointing service chiefs in haste
A day after the outgoing UPA-II government decided to appoint navy chief, former army chief General VK Singh blames the government of making crucial appointments in haste and in the middle of general elections.
#7 Six decades, six yatras! LK Advani now set for a sixer in Gandhinagar?
At 86, age has not withered Advani who is now ready for any role.
LK Advani relishes the Gujarati kadhi and aam ras as much as campaigning in Gandhinagar, a seat he is contesting for the sixth time. A frugal eater and an unrestrained campaigner, at 86 he is still the untiring yatri.