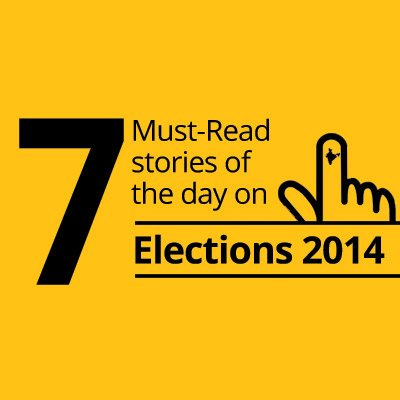 #1 Afzal Guru hanging unites Jammu and Kashmir parties against National Conference
Afzal Guru's hanging has become a rallying point for political parties this election season to garner votes for their candidates in Jammu and Kashmir. While ruling National Conference (NC) is trying to play martyr by claiming ignorance and blamed former home minister RK Singh for Guru's hanging, the Opposition People's Democratic Party (PDP) and separatists are going to town blaming NC for collaborating to send the Parliament attack convict to the gallows.
#2 FIR filed against Pravin Togadia for alleged hate speech to throw Muslims out
After VHP leader Pravin Togadia's alleged anti-Muslims remarks in Gujarat's Bhavnagar, a First Information Report or FIR has been registered against him. VHP president Pravin Togadia had said on Sunday in Gujarat that Muslims should be barred from buying property in Hindu-dominated localities.
#3 Lok Sabha elections: Militants kill three including sarpanch before voting in Kashmir
Militants killed three men in India's restive Kashmir region on Monday, police said, in attacks that appeared intended to intimidate locals who are due to vote in a general election this week. The execution-style attacks targeted two village council heads in the Anantnag district in the broad Kashmir valley to the south of Srinagar.
#4 Bismillah Khan's family refuses to propose Narendra Modi's name during nominations
The late music maestro Ustad Bismillah Khan's family has refused to become a proposer for BJP's Prime Ministerial candidate Narendra Modi when he files nomination for the Varanasi Lok Sabha seat on Thursday.
#5 Narendra Modi woos youth in Mumbai rally, slams Rahul Gandhi for 'poverty tourism'
On Monday, BJP PM candidate Narendra Modi appealed to the youth of Mumbai to help elect a strong government at the Centre, saying the present UPA government was incapable of fulfilling their dreams.
Modi also attacked Rahul Gandhi in his speech, claiming he indulged in 'poverty tourism' by visiting the homes of the poor, posing with the family and having lunch with them. He attacked Gandhi saying that the latter had never seen poverty, and hence needed to indulge in 'poverty tourism' to understand it.
#6 Polls, where money flows more than water
EC's Rs70L limit is ignored by most candidates, with expenses running into crores in several cases, say sources. Nearly a year ago, veteran BJP leader Gopinath Munde had publicly admitted to having spent Rs8 crore during the 2009 Lok Sabha polls, which was way more than Election Commission's (EC) then expenditure limit of Rs 40 lakh
#7 BJP's Murli Manohar Joshi threatens reporter, deletes interview footage
As the Lok Sabha election battle intensifies and many leaders are caught off-guard trying to appease their party, a new video by Zee News shows senior BJP leader Murli Manohar Joshi trying to manipulate the media.
The video, which is of an interview with Joshi, shows him demanding to see the interview footage several times, and then deleting it. But Joshi forgot about another camera that was recording the events as they transpired. The interview with Murli Manohar Joshi was being done by Zee News's Resident Editor Sumit Awasthi.
.