Every year on January 26, India celebrates Republic Day with much patriotic fervour — parades and marches are held all over the country, the prime minister, president and other high-ranking officials grace the celebrations at Rajpath in New Delhi, the Indian tricolour is hoisted, followed by the Republic Day speech that eulogises India's history, heritage and growth since Independence.
But do we really know why this day is so significant in the lives of us Indians? Let's have a recap why.
While India gained Independence on August 15, 1947, after a lengthy freedom struggle, it was not until 1949 that we had our own Constitution. The country continued to function under British laws till November 26, 1949, when the Constitution was passed by the Constituent Assembly of India. The document was formally adopted by the Indian government on January 26, 1950, completing free India's transition to an independent republic.
Ever since then, January 26 is commemorated as the day the Indian Constitution came into effect.
Here are the basic principles our Constitution is based on:
1) Justice: Citizens cannot be discriminated on the grounds of caste, religion and gender. Social, economic and political justice shall be provided to all citizens by the government and it should work especially for the welfare of disadvantaged group.
2) Liberty: There are no unreasonable restrictions on the citizens in what they think, how they wish to express their thoughts and the way they wish to follow up their thoughts in action. Liberty of thought, expression, faith, worship and belief should be provided to the citizens.
3) Equality: All are equal before the law. The government should ensure equal opportunity for all. Equality of status and of opportunity should be provided and promoted among the citizens.
4) Fraternity: All of us should behave as if we are members of the same family. No one should treat a fellow citizen as inferior. We should assure the dignity of individual and the unity and integrity of the nation.
But as we celebrate the 65th Republic Day today, we find ourselves thinking how much of a republic are we?
dna web team tries to gauge the public sentiment on the issue.
Having seen the country's transition over the years post Independence, Jagdamba Prasad Mishra "Gaurav" (below), a security guard by profession and poet by passion, had some interesting insights to offer.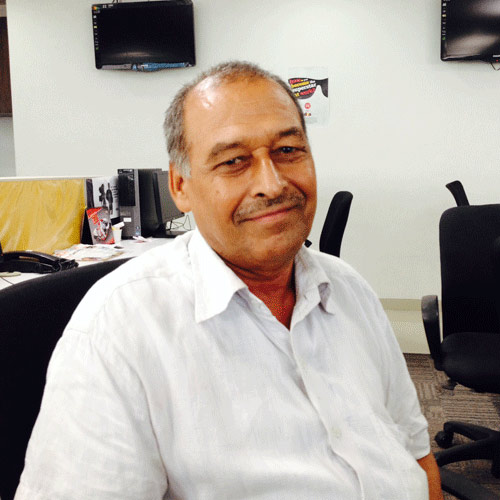 An ardent patriot, Mishra feels that Independence Day and Republic Day have been reduced to mere words today. While the celebrations are carried on with fanfare, there is little soul behind it.
Lamenting the state of the common man, Mishra says, "Republic means Ganatantra — laws by the public, of the public for the public. But is that really happening today. While politicians are busy promoting the 'India Shining' campaign all over the world, Bharat is getting lost in all this din."
When asked to elaborate, he rued, "Our forefathers fought for this freedom hard and long. They boycotted videshi to promote swadeshi. But the irony today is that we are going back to videshi in every sense — be it clothes, culture or language. We are bringing in foreign companies, while our small and medium industries die a silent death. Machines are replacing people, but there are no jobs being created for those people. Is this what we call a republic?"
He goes on to express sadness on the state of youths in the country today.
"Young people today have degrees but no jobs. People with MA or BA degrees are either out of work or are working odd jobs to get by," he says.
He quotes a few lines from a poem by him that highlights the problem aptly:
BA bakriyaan chara rahe
MA bharte ghar ghar paani
B.Com ghumte bina kaam
M.Com kar rahe darbaani
Engineer digriyaan liye liye is daftar se us daftar ki
Sau baar dehriyaan choom rahe
Inki shiksha diksha ka yeh kaisa samman hua hai
Desh ka kaisa haal hua hai
Gulshan kabristan hua hai
Mishra also laments the political system and the state of our leaders today.
"Even our leaders are running behind the West. Former Russian (then Soviet Union) President Mikhail Gorbachev came to India and addressed the people in Russian, but when Atal Bihari Vajpayee addressed the United Nations in Hindi in 1977, he was laughed at by all. We are known as India all over the world, but no one remembers Bharat. Kids today are ashamed to speak Hindi.
"While our leaders eulogise our heritage in speeches, nothing is being done to preserve it. One of the tenets of the Constitution is to give justice to the people. But today a man dies fighting for justice. Our freedom fighters fought for Independence together. It was a fight by all —men, women of all caste and creed joined the freedom struggle without any discrimination, but today we are seeing our country being divided on those lines."
Mishra quotes a few lines from a poem by Maithili Sharan Gupt:
"Hum kya rahe kya ho gaye,
Aur kya honge abhi,
Aao vichaare aaj milkar,
Yeh samasyayen abhi"
With the India of his dreams in his eyes, Mishra, however, has not lost hope. On the ocassion of India's 65th Republic Day, he dedicates a poem to his country and urges fellow Indians restore the glory and pride of their land.