Govt has put 17 of them on its agenda, but there's hardly any enthusiasm to push them.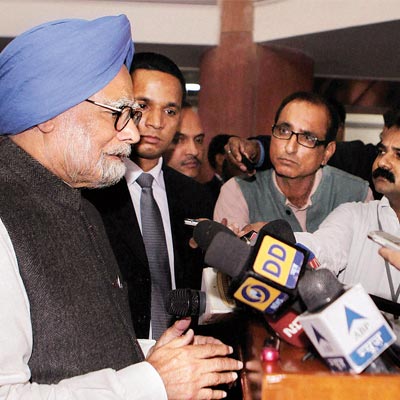 As many as 56 bills stand to lapse with the dissolution of 15th Lok Sabha. The tardiness on the legislative front of the UPA-II government can be gauged with the fact, that some of these bills which will lapse include Indian Trust (Amendment) and two constitutional amendment bills which sought to enhance the quantum of reservation for women and SCs/STs in municipalities and panchayats.
Though the government has put 17 of them on its heavy agenda for passage in the 12-day session, there is hardly any enthusiasm to push them. The new government has to work afresh on them for their introduction and passage.
The most shocking lapse, however, will be of the legislation for the Direct Taxes Code introduced back in 2010 to replace the Income Tax Act.
In case of the Rajya Sabha, as many as 64 Bills have piled up in the list of the pending government Bills, but the only solace is that these do not lapse and are carried forward unless the new government decides to junk some of them. Only 11 of them are listed for consideration in the winter session set to resume on Wednesday.
There are half a dozen constitution amendment bills before the Lok Sabha that are destined to lapse and so are the important bills (see graphics). The list of pending Bills also include three introduced in the first year of the UPA-II government while 11 are pending since 2010, 16 since 2011 while a dozen Bills of 2012 and 13 of 2013 are too pending. Those pending in the Rajya Sabha are three Bills for amendments in the Constitution.
Meanwhile, on the first day of the session the government has listed two anti-corruption Bills for consideration in the Lok Sabha. The controversial bill for formation of Telangana has been, however, kept off the list on the first day . Listed for discussion and passage are two of the six key Bills identified by Rahul Gandhi as part of a framework of steps necessary to root out the corruption. These are: Right of Citizens for Time Bound Delivery of Goods and Services and Redressal of Their Grievances Bill and Prevention of Bribery of Foreign Public Officials Bill Listed in the Rajya Sabha for consideration on Wednesday are two Bills, namely the Street Vendors (Protection of Livelihood and Regulation of Street Vending) Bill that promises to bring relief to thousands of vendors who are pushed around by police and municipal authorities and their wares seized at whims. The second Bill is to provide secretarial assistance to former governors.
The government will take a vote-on-account during the session which will conclude February 21.
Coal regulatory authority bill among stalled legislations
1. Direct Taxes Code introduced in 2010 to replace the Income Tax Act
2. The nuclear safety regulatory authority bill
3. The Benami transactions (prohibition) bill
4. The forward contract (regulation) bill
5. The coal regulatory authority bill
6. The biotechnology regulatory authority of India bill
7. The agricultural biosecurity bill
8. The piracy bill
9. The electronic delivery of services bill
10. The consumer protection bill
11. The press and registration of books and publications bill,
12. The mines and minerals bill,
13. The foreign educational institutions (regulation of entry an operations) bill
14. Five constitution amendment bills