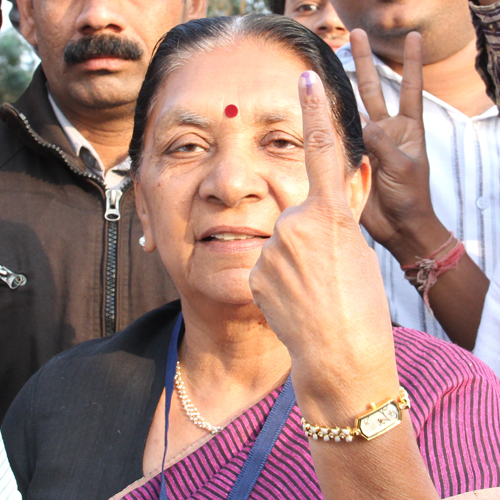 Narendra Modi, the incumbent chief minister of Gujarat, is contesting the 2014 Lok Sabha elections from two constituencies: Vadodara in Gujarat and Varanasi in Uttar Pradesh. The Bharatiya Janata Party's face of the 2014 general elections is also their prime ministerial candidate.
Now, with the ongoing Lok Sabha elections in Gujarat and results just a few days away, we wonder what will happen to Gujarat after Narendra Modi becomes a Member of Parliament. The most probable candidate for the role of the chief minister of Gujarat is Anandiben Patel.
Here's a list of five things you need to know about Anandiben Patel:
1. Anandiben Patel joined the Bharatiya Janata Party (BJP) in 1987. She became a member of the Gujarat Legislative Assembly in 1998 and has been holding the position ever since. She is the only woman candidate to be elected as an MLA for four consecutive terms and is one of the longest serving woman MLAs in Gujarat.
2. Anandiben Patel is currently the Cabinet Minister of Revenue, Urban Development and Urban Housing, Road and Building, Disaster Management and Capital Projects in the Government of Gujarat. It is her fourth consecutive term as the cabinet minister of Gujarat government.
3. She won her first Assembly election in 1998 from Mandal district of Gujarat. Anandiben was appointed the Education Minister in the cabinet of Gujarat. In 2002, she was elected from the Patan constituency and she continued as the Education Minister in the cabinet.
4. Anandiben once again won the 2007 assembly elections from Patan. In her third term as the cabinet minister in the government of Gujarat, she was assigned the Revenue and the Roads and Buildings portfolios.
5. In her fourth assembly elections, Anandiben won from the Ghatlodiya constituency and is currently handling four portfolios. She is the preferred next chief minister of Gujarat, if and when Narendra Modi, the present chief minister shifts his base to Delhi.