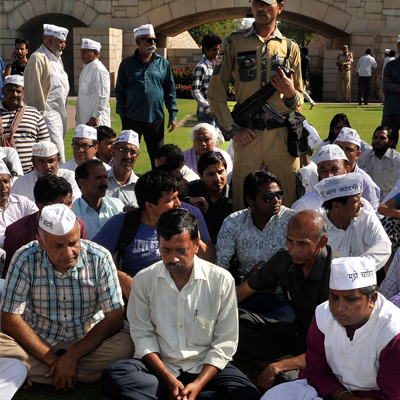 1) For an effective Lokpal Bill
July 25, 2012 - Arvind Kejriwal went on a protest to demand investigations as to why 15 cabinet ministers who he alleged, prevented even a watered down version of the Lokpal Bill from being passed by the Parliament. It was during this protest that members of the movement and Kejriwal decided to start a political movement.
2) Against inflated power and water bills.
March 2013 - The Aam Aadmi Party started a protest against "inflated" power and water bills on with, Arvind Kejriwal, announcing an indefinite fast on the issue. Kejriwal said Delhiites should not pay their bills. "I am beginning my fast today and I won't pay my water and power bills. These are illegal and inflated bills." he said.
He fasted for 15 days, and the fast also saw Hazare (ex-mentor) visiting Kejriwal at the protest site on March 29 and urging him to end his fast.
3) Protest against the Delhi Police
January 20, 2014- The AAP chief along with his Cabinet organised the sit-in to demand action against Delhi Police which his government accused of dereliction of duty in an alleged drugs and sex trafficking case involving some African nationals. He organised a dharna against his own state's police force, blocking traffic, holding up the government and descending into a spectacle best suited to a bunch of anti-establishment college idealists. He faced a lot of criticism for this, as he was Chief Minister then, and his acts were compared to that of an anarchist.
He later called off the 32-hour dharna after Lieutenant-Governor Najeeb Jung was sent on "leave with full pay" , and action taken against two of the five "errant" policemen against whom he had demanded action.
This protest of his led to the closing down of 4 metro stations. Even buses were diverted. Commuters were hit hard because of this, leaving the entire city in chaos.
4) Resignation of AAP government from Delhi in protest of Congress and the BJP blocking the tabling of Jan Lokpal bill in Delhi Assembly.
February 14, 2014- Kejriwal resigned from his seat after just 49 tumultuous days in office, saying that his anti-corruption initiative was being blocked by the BJP and the Congress. He had threatened to quit unless Delhi's legislative assembly passed the Jan Lokpal Bill, which would create a body responsible for investigating complaints of corruption against public officials. The threat initially sounded dramatic, coming so soon after he had taken office. Outside his party headquarters, he addressed the supporters of AAP saying- "If I have to give up the chief minister's chair a hundred times, I will sacrifice it a hundred times. If I have to sacrifice my life for the country, I would consider myself fortunate."
5) Kejriwal refuses to pay bail bond
May 21, 2014- Arvind Kejriwal spent the night of 21st May in the Tihar Jail after he was taken into custody when he refused to pay a bail bond in the Nitin Gadkari defamation case. He could have easily avoided this by paying the bond, but instead chose to drum up some street-drama
Close to a 100 angry AAP supporters were seen protesting and shouting slogans, saying they were with Kejriwal in his fight against corruption. This led to the Delhi Police imposing Section 144 in the area.​