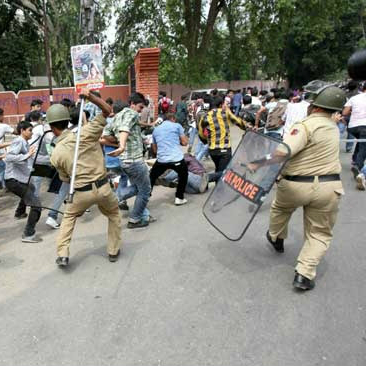 Eleven people, including five policemen were injured today in stone pelting and lathicharge during a protest by Jammu and Kashmir National Panthers Party (JKNPP) activists against the recruitment of Kashmiri youth in the railways for the posts falling in Jammu region. Over 200 JKNPP activists staged demonstration at Chak Rakhwal Railway station on Udhampur-Katra railway line to protest against the recruitment and posting of over 100 Kashmiri youth by the Railways against the posts falling in Udhampur district today, police said.
Raising anti-government slogans, the protesters alleged that there was discrimination with Jammu region, particularly with Udhampur district in recruitment of youth by Railway department, they said. During the protest, some youth pelted stone which forced the police to resort to lathicharge."11 people, including five policemen sustained injuries in the canecharge and stone-pelting incident, following which some of them had be admitted to hospital while others were discharged after giving first aid," police officials said.
Protests were being held in Jammu winter capital city by JKNPP activists against the recruitment of Kashmir youth in Jammu region and their deployment on railway lines in Udhampur and Reasi districts. "It is very discriminatory that Kashmiri youth would be recruited against the posts of youth belonging to Jammu region. We will not allow this to happen. Railways has recruited scores of Kashmiri youth for Railway line in Udhampur," MLA and JKNPP leader Balwant Mankotia said.