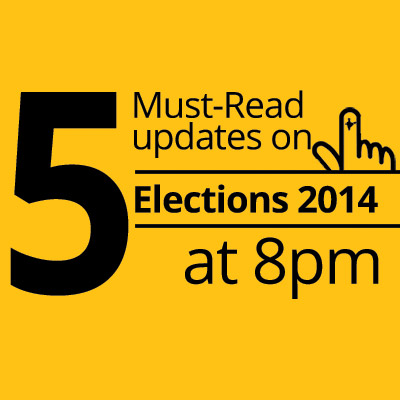 #1. Narendra Modi vs Omar Abdullah: Who is right about the exodus of Kashmiri Pandits?
Who is correct on the issue of exodus of Kashmiri Pandits from the valley? Is Narendra Modi right when he says Farooq Abdullah did nothing as terrorists targeted the Pandits, or is Omar Abdullah correct when he says Pandits are part of the valley and left due to a Hindu right-wing conspiracy? No one knows the truth, but this clash of narratives is not new.
#2. Mamata Banerjee threatens to sue Narendra Modi. But the question remains will you buy any of her paintings for Rs 1.8 crore?
BJP prime ministerial candidate Narendra Modi has questioned the sudden rise in the value of paintings by West Bengal Chief Minister Mamata Banerjee. In a rally, Modi slammed Banerjee and sarcastically lauded her talent for painting, saying, "Your paintings used to be sold for Rs 4 lakh, Rs 8 lakh or Rs 15 lakh, but what is the reason that one of your paintings sold for Rs 1.80 crore? I respect art. But who was the person who bought the painting for Rs 1.80 crore?" Banerjee retaliated, calling Modi the 'devil'. Earlier in the day, TMC spokesperson Derek O'Brien threatened to sue Modi and claimed the money raised from Banerjee's paintings were used for party funds and charity.
#3. BJP rebutts Congress 'Hawala' accusations with picture of Afroz Phatta with Congress MP Azharuddin
Just hours after Congress targetted BJP by accusing Narendra Modi to be involved in Hawala scam, the battle took center-stage as BJP retorted. BJP MLA Harsh R Sanghavi tweeted a picture of Congress MP Azharuddin with 'hawala kingpin' Afroz Phatta.
#4. Narendra Modi is manipulative, I'm contesting from Vadodara to help expose him: Congress' Madhusudan Mistry
Madhusudan Mistry started his political career as a trade unionist before joining active politics as a leader of the Congress party. He is currently a Rajya Sabha MP and a general secretary of the All India Congress Committee. He has been in charge of the party in UP, Kerala, Lakshwadeep and Karnataka. For the Lok Sabha elections 2014, he has been involved in the ticket distribution process and is contesting against the BJP's prime ministerial candidate, Narendra Modi, from Vadodara.
#5. Why are Sonia, Rahul Gandhi silent on Robert Vadra issue, asks BJP
Upping the ante, BJP today questioned the "silence" of Congress President Sonia Gandhi and Rahul Gandhi on the issue of Robert Vadra's land deals and said it is only adding to the suspicion that the "family" has something to avoid answering.