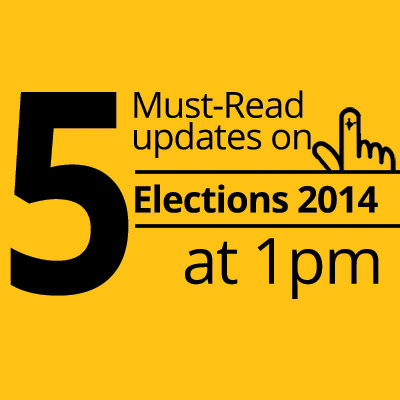 #1 AAP leader Kumar Vishwas to file complaint against Priyanka Gandhi, Robert Vadra and Rahul Gandhi for 'threat to life'
Aam Aadmi Party (AAP) leader Kumar Vishwas has decided to file a complaint with the Uttar Pradesh state election commission and the police alleging a threat to his life from top Congress politicians. Vishwas who is contesting against Rahul Gandhi from Amethi has been attacked time and again and was welcomed with black flags during rallies.
#2 Poll panel allows Amit Shah to resume campaign
The Election Commission Thursday allowed BJP leader Amit Shah, a close aide of the party's prime ministerial candidate Narendra Modi, to resume campaign in Uttar Pradesh after he promised not to use derogatory language or do anything violative of the poll code.
#3 Lok Sabha Election 2014: Bangalore's poor voter turnout is a matter of shame for the city
On 5 April, I read a story in Los Angeles Times on the elections that just took place in Afghanistan. Taliban, for weeks before polling, had been threatening to kill the citizens of Afghanistan if they participated in the democratic process of voting. So a 52-year-old farmer drove to a quiet provincial capital the night before voting where government security forces patrol the streets. Early morning on the next day, he voted and then went back to his village. The story further marveled at the increase in fresh voter cards. 3.6 million cards were issued, which is a significant amount considering the total turnout in the 2009 election was around 4.6 million.
#4 Climate change: An upcoming threat with little political traction during Lok Sabha elections
As more than 850 million Indians went to poll amidst a hotly contested pre-election period, the Intergovernmental Panel on Climate Change (IPCC) setup under the United Nations released the first part of its much anticipated report in Berlin, Germany, detailing where the world exactly stood on climate change.
#5 Between BJP and Congress, do we really have a choice these Lok Sabha elections?
In the aftermath of the Second World War the choices facing British voters were stark. On the one hand was war hero Winston Churchill leading the Conservative Party, who essentially wanted a gradual return to Old Britain with laissez faire capitalism and continuing colonisation.