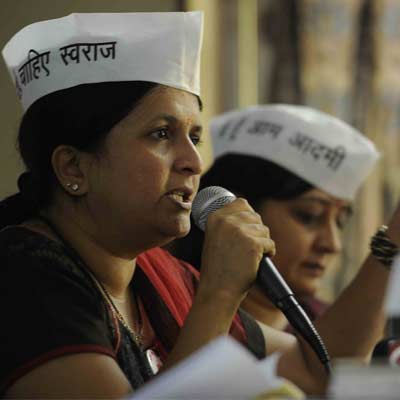 #1 Aam Aadmi Party's senior leader Anjali Damania from Maharashtra has quit the party
"Dear colleagues, with a heavy heart, I am ending my association with AAP," she said in her resignation message to top AAP office bearers in Mumbai. "My greatest regards for Arvind (Kejriwal), who is like an elder brother. All I want to request is that please do not have any conspiracy theories over my exit," Damania said.
#2 Narendra Modi takes oath as member of Parliament; Sumitra Mahajan to be appointed as Speaker on Friday
Narendra Modi, LK Advani, Sonia Gandhi, Rajnath Singh, Sushma Swaraj and others have taken the oath of member of Parliament. The first sitting of the 16th Lok Sabha was adjourned for the day on Wednesday following the death of union minister Gopinath Munde.
#3 For greener India, public participation is important says PM Narendra Modi on World Environment Day
Prime Minister Narendra Modi took to twitter and expressed his keen desire to witness a public-government partcipation in future to handle the issue of damage to environment in India. On the occassion of 'World Environment Day', Modi said, "We are blessed to be a part of a culture where living in complete harmony with the environment is central to our ethos."
#4 Narendra Modi to meet Barack Obama in Washington in September
Indian Prime Minister Narendra Modi will visit Washington to meet President Barack Obama in September, two Indian newspapers reported on Thursday, signalling a new start in ties with a leader once denied a visa by the United States. Modi, who swept to power in a general election last month, has accepted an invitation from Obama for two-way talks in Washington.
#5 Meet me directly on policy issues says PM Narendra Modi to government secretaries
In a first, Prime Minister Narendra Modi on Wednesday met secretaries of all the government departments collectively and asked them to directly get in touch with him to resolve policy issues and expedite decision-making. Modi held a three-hour-long marathon meeting here with them with intent of giving the bureaucracy a greater role in decision-making with thrust on transparency and speedy and effective governance.