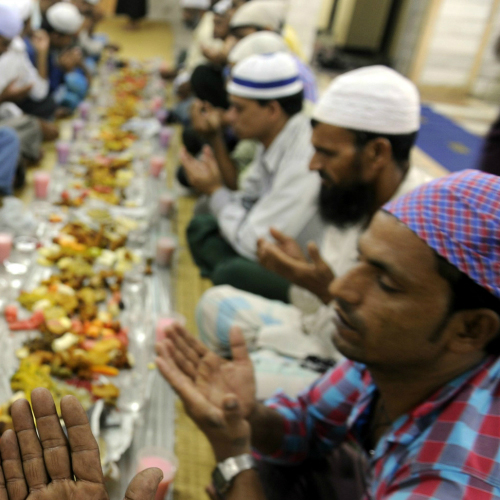 Muslims in India celebrate Eid-ul-Fitr after the sighting of the moon last night. Firecrackers and hugs are seen in plenty all across the country reverberating a sense of joy amongst the Islamic community as they bid goodbye to holy month of Ramadan. Below are some of the best cities to celebrate the festival in India.
Srinagar
The biggest congregation gathers at the historic Eidgah to offer prayers. It is said that 600 years go Hazrat Mir Muhammad Hamdani, son of Hazrat Mir Syed Ali Hamdani also known as Shah-e-Hamdan, had purchased this land and gifted it to Kashmiris to offer their prayers on Eid.
Special prayers are also offered at Dargah Asar-e-Sharif Hazratbal.
On the eve of Eid, the city centre of Lal Chowk will be bustling with shops selling everything from clothes, jewellery and shoes to dishes of sweets and meat. Shops in Goni Market, Regal Chowk and Zaina Kadal are famous for jewellery and women's apparels.
Delhi
On the morning of Eid, men gather at the Jama Masjid to offer prayers. The monument built by Mughal emperor, Shah Jahan, is decorated with full splendour.
Old Delhi is alive with festivities as people throng to this part of the city to celebrate Eid.
You will find dishes like Sewai and mouthwatering kebabs in shops here. Ramzan special Haleem can also be found here. One of the best places to eat Haleem is said to be Gali Kababiyan at Jama Masjid.
Lucknow
The devout gather at the biggest prayer ground in the city- Aishbagh Eidgah - to offer prayers. Prayers are also offered at the Aasifi Masjid.
Hyderabad
In the month of Ramzan in the area around the Charminar, shops are open all night selling their wares. Many of these shops are a few centuries old.
Hotels at Madina Junction and on the High Court Road sell Haleem, a signature dish of the city that is only available during this holy month. A thick, pasty dish of pounded wheat, lentils, meat, ghee and spices. The dish is prepared by slow cooking the dish for over 10 hours on a low flame.
The Madina-Charminar road is lined with street vendors selling readymade garments, textiles, footwear, jewellery, pearls, bangles, 'attar' (natural perfumes) and crockery, cutlery, upholstery - teem with thousands of buyers.
During this month, many end their daily fast in the lawns of the Mecca Masjid, near Charminar. On Eid, thousands of worshippers gather here to offer their prayers. Prayers are also offered at Madannapet, Mir Alam Tank, Secunderabad, Masab Tank and Golcondaidgah.
Mumbai
Every one in the city flocks to the famous Mohammed Ali Road located at Masjid Bunder, South Mumbai to sample the Special Ramzan delicacies. The lanes Mohammed ALi road offer a variety of food from meat dishes such as cow tongue soup, goat brain gravy, roasted quail bird, and goat leg soup to sweets like malpua, mawa jalebi, rabri, phirni and Falooda.
The famous Minara Masjid is decorated with lights. The Masjid is known for its painted wooden windows and beautiful stained glass.
On Eid, the largest prayer gathering takes place at Azad Maidan in South Mumbai. The other big venues for prayers are the mosques Juma Masjid in Crawford Market and Anjuman-i-Islam.