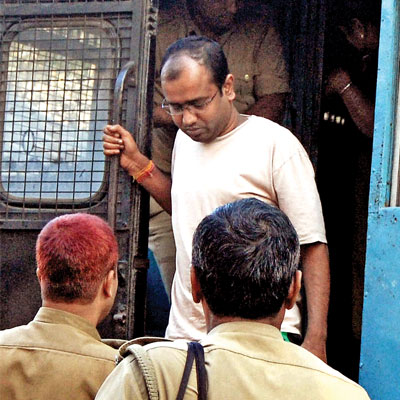 Central Bureau of Investigation registered 46 FIRs in the multi-crore Saradha financial scam in Odhisa and West Bengal against group of companies and individuals with Trinamool Congress Rajya Sabha MP Kunal Gosh and Saradha group CMD Sudipto Sen named in one of the FIRs.
CBI on Wednesday informed that the agency's Special Investigation Team, constituted on the directions of Supreme Court last month, registered 43 cases in Odhisa and three cases in West Bengal. SC had observed that the state police failed to crack the money trail, unravel the larger conspiracy and interrogate politicians and influential persons allegedly involved in the scam. CBI is likely to register more cases in coming days.
The Mamata Banerjee administration in West Bengal has reluctantly welcomed the CBI investigations, which the chief minister opposed earlier as names of several Trinamool leaders cropped up during investigations. Prime minister Narendra Modi during Lok Sabha election campaign earlier this year slammed Mamata for her and her party colleagues' alleged complicity in Sardha scam and promised action if voted to power.
The accused companies or individuals, as per the CBI FIR were involved in cheating, criminal breach of trust and criminal conspiracy. Supreme Court, in its observations stated that the financial scam involves collection of nearly Rs 10,000 crore from the general public, especially weaker sections of society in West Bengal, Odhisa and Tripura and Assam, who have fallen prey to the temptations of handsome returns on such deposits.
The SIT, headed by Joint Director Rajeev Singh, would also probe the role of market regulators like Securities Exchange Board of India and Reserve Bank of India(RBI). CBI Special Director Anil Kumar Sinha is monitoring the progress in the probe and exercise administrative control under the overall supervision of CBI chief Ranjit Sinha.
"As per directions of apex Court, larger conspiracy angle including the role of Regulatory Authorities and money trail in this alleged scam will also be focused upon during investigation," said CBI spokesperson, Kanchan Prasad.
In West Bengal, CBI has named, Sardha Realty, Sardha Tour and Travels, Sardha Housing and Sardha Resorts and Hotels in the FIR. The other names figuring in the FIRs registered in West Bengal include that of director Sardha Realty Manoj Kumar, former director Debjani Mukherjee, former senior vice president Sardha Media Group Somnath Dutta and one of the former employees of the group Arobindo Chauhan.
Similarly in Odhisa, cases among others have also been registered against, Sea Shore Group and its CMD Prashant Das, Astha Group and its CMD Pradeep Sethi, Artha Tatwa Group, Rose Valley Group and Micro Finance.
The CBI has also approached West Bengal government for providing six vehicles and space for setting up a camp office. Besides the agency has also sought attachment of 10 inspectors and 20 constables of high integrity and competence to SIT for helping in the investigation-related work at this stage.