Republican members of House of Representatives come calling, invite Gujarat CM to the US.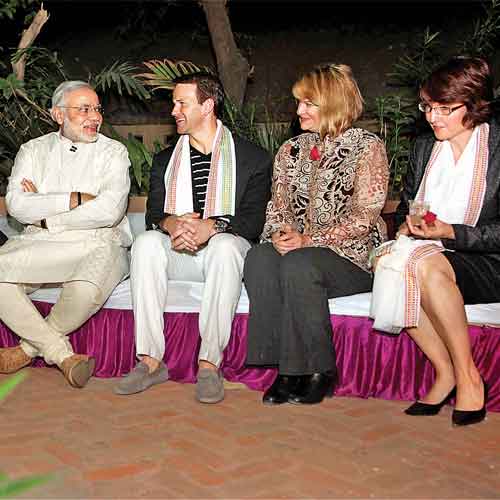 On the heels of visits by a EU delegation and a UK minister, three American lawmakers called on Gujarat chief minister Narendra Modi on Friday and invited him to visit the US.
This is the first visit by US lawmakers to Modi since the 2002 riots in the state. Modi was denied diplomatic visa by the US in 2005 following allegations of complicity in the violence.
On Thursday, Republican members of the US House of Representatives, Aaron Schock from Illinois, Cynthia Lummis from Wyoming and Cathy M Rodgers from Washington, met Modi with a delegation of business leaders and extended an open invitation to him to visit the US. They also promised to lobby with the Obama administration for his visa.
However, members who attended the meeting on Gujarat's economics and governance said there were assurances on a visa for Modi. "When prodded by them as to when he will visit the US, Modi replied 'as and when time allows'," said Vijay Jolly, BJP's overseas convener of the foreign affairs cell.
Addressing the media later, the US Congress member Aaron Schock said, "We have extended an invitation to the chief minister and requested him to show us there what he has achieved here in his state."
When asked if this meant that the US state department had changed its stand over the issue of visa to Modi, Schock said, "Obviously it is a matter of the United States administration but we, along with other Republican lawmakers, will work in that direction with the US administration."
Meanwhile, the US consulate in Mumbai sought to distance itself from the visit. A consulate spokesperson said, "We are aware of the visit. The US Congress is the legislative branch of the US government, and is separate from the administration."
The visit is organised by the Overseas Friends of BJP's 'Global Community Outreach Programme' in association with the US-based National Indian American Public Policy Institute and Delhi Study Group.
NRI businessman Salabh Kumar, a member of the `Overseas Friends of BJP' who was a part of the delegation, said he expected Modi's visit to the US in as early as June. Kumar, who was instrumental in arranging the delegation's visit to India, said, "We are hopeful that he will visit the US most probably by June as after that he will get busy in the preparations for general elections."
Curiously, Modi's blogs, tweets and even the press statement from his office had no mention of the invitation.
This visit gains significance as it comes at a time when Modi is hard-selling himself as BJP's prime ministerial candidate for the coming elections next year. Lately, the EU and the UK are also warming up to him – the latest being the meeting of UK's junior foreign minister Hugo Swire.
@DNA