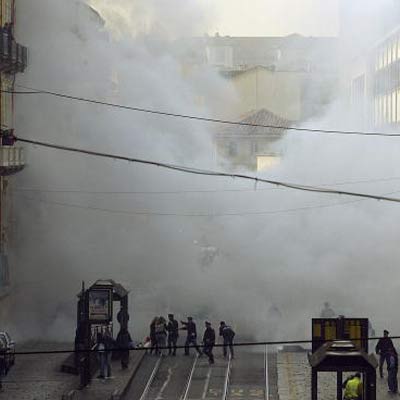 Three Indians have been injured in a terror attack in Bahrain's capital Manama when a homemade bomb made out of a gas cylinder was detonated, according to a media report.
The incident happened on Thursday night and the victims are now recuperating in Salmaniya Medical Complex (SMC) in Manama, the Gulf Daily News reported.
The victims have been identified as Binoy Baby, 30, Jayabalan Markose, 47, and Anil Ebraham, 33. Markose suffered 35% burns to his body including his face, back and legs while the other two were treated for back and leg injuries.
The three men's condition was "stable" and Indian Embassy officials have visited them, the report said.
The three Indians were leaving a building near a place where the attackers were blocking roads and setting tyres on fire, it said.
"The fire was spreading close to their building. They were trying to use the fire extinguisher when the gas cylinder exploded and fragments came flying, hitting them all over their bodies," a witness was quoted as saying by the daily.
The explosion happened close to the Bahrain Keraleeya Samajam (BKS), where families had gathered for a drama being staged.
The Interior Ministry confirmed that three Asians were injured in a gas cylinder blast following acts of vandalism in Segaiya, the newspaper reported yesterday.
Meanwhile, the outlawed terror group, The Coalition of February 14 had posted pictures of a gas cylinder placed inside a tyre on its Twitter account.
They also claimed the action was taken to "send a message to the authorities" for allegedly not releasing the body of Bahraini Abdulaziz Moussa Al Abbar who died in hospital on April 18 from head injuries.