Pak move comes after a PoK driver with drugs worth Rs100 cr was held in Uri.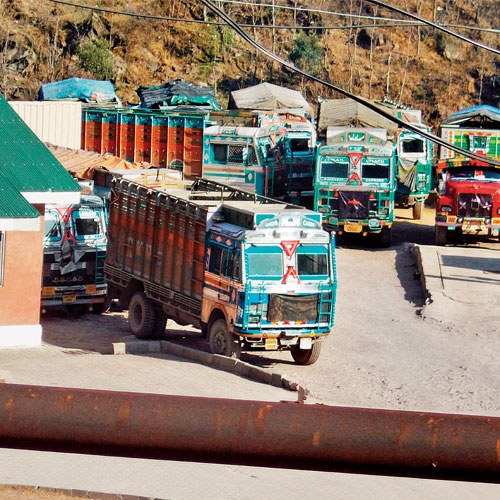 Uncertainty looms large over the cross-LoC trade after Pakistan Occupied Kashmir (PoK) authorities detained 27 Indian drivers along with their trucks demanding the release of Pakistani driver arrested by J&K police after narcotics worth Rs100 crore was seized from his truck near Uri.
PoK authorities have also refused to receive 48 drivers and their trucks that had arrived here on Friday. The Pakistani drivers along with their trucks are stranded in Uri as efforts from J&K government to persuade PoK authorities failed on Saturday.
The standoff began on Friday when Jammu and Kashmir police arrested a PoK driver after 114 packets of brown sugar worth Rs100 crore was recovered from his truck.
Instead of supporting the law enforcing agencies, the Pakistani authorities started mounting pressure demanding the release of the driver along with the truck including the brown sugar.
"They (Pakistani authorities) are saying they will try him (the accused driver) there (in PoK). But we have our laws and our system. We cannot release the vehicle and handover the accused. Now they have impounded our trucks," JP Singh, deputy inspector general (DIG) of police, North Kashmir, told dna.
Singh said under the memorandum of understanding, both countries have agreed that law of land will follow if any illegal activity is found in either of the countries. "It has been agreed that if any illegal activity is traced, the law of land will be followed. That means if it happens here, J&K police will chip in and if it happens there they will investigate," he said.
DIG North Kashmir said they had asked the PoK authorities to take back the trucks and drivers but they refused. "Their vehicles are stuck here. We told them to take the vehicles but they are not ready," he said.
Police suspect that the huge drug haul was smuggled to fund militancy in Jammu and Kashmir. "We are investigating where this money was to be used. When Rs100 crore drugs are smuggled into J&K there has to be someone who had to utilize it somewhere. The simple way is to fund terrorism," said an officer
District development commissioner of Baramulla GA Khawja said they have written to the J&K government to take up the issue with the external affairs ministry for perusal of matter with Pakistan.
Considered a mother of CBMs between India and Pakistan, the crossed LoC trade started in October 2008. There are two cross LoC routes — Srinagar-Muzaffarabad, Poonch-Rawlakote — that are being used to ferry goods between J&K and PoK.