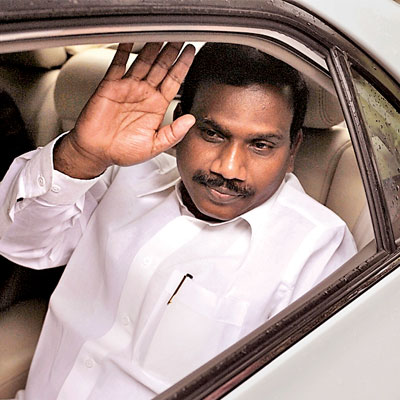 Former union ministers A Raja, Mukul Roy, SM Krishna, Pawan Kumar Bansal and CP Joshi are among the 22 ex-ministers who are occupying big ministerial bungalows in the VIP Lutyens Zone even long after they lost right to retain them. DMK's A Raja has been occupying the bungalow for the longest time – since November 2010.
Besides them, leaders like Rashtriya Janata Dal chief Lalu Prasad Yadav and Congress's Buta Singh are also enjoying the extended stay at the VIP properties due to special concessions meted out to them by the UPA government in contravention to a Supreme Court judgment.
Buta Singh's case was forwarded by prime minister Manmohan Singh himself to urban development minister Kamal Nath who cleared it even though the union finance ministry was not in favour of it.
These MPs, who cease to be ministers, are mostly occupying plush type VII and type VIII bungalows. Type VII and VIII bungalows are among the largest government accommodations and these are meant for ministers and secretaries. They usually have eight bedrooms, four servant quarters, two garages with front and back lawns too.
Prominent oldest names among the list of the 22 MPs are former telecom minister A Raja embroiled in 2G scam, who has been occupying it since November 2010, and former communications minister Dayanidhi Maran who is holding on to the property since July 2011.
Other names who figure in the list are former foreign minister SM Krishna, Mukul Wasnik, Subodh Kant Sahay, Harish Rawat, CP Joshi, Pawan Kumar Bansal, Dinesh Trivedi, Mukul Roy, Saugata Roy, Vincent H Pala and Agatha Sangma among others.
The information was revealed in reply to a RTI application filed by activist SC Agrawal who had sought information on the subject.
Besides this list of 22, the RTI reply also revealed that RJD leader and former railway minister Lalu Yadav and former Bihar governor Buta Singh are getting a special rent-concession on the extended lease of ministerial bungalows in contravention of the orders of India's highest court – the Supreme Court.
While Lalu's case was cleared on grounds of his diabetic and cardiac treatment at AIIMS, Buta Singh's case was cleared by urban development minister Kamal Nath after a letter by PM Manmohan Singh was received that highlighted Buta Singh's application seeking bungalow on grounds of threat as he enjoys z+ security.
In Buta Singh's case, the union finance ministry had not supported the move stating that, "the revision of rental liability from market rate to special rate would be contrary to the judgment of the Supreme Court as that would amount to waiver of licence fee prescribed for such allotment for which the Government is not empowered". However, Kamal Nath had cleared the proposal.
Last year, the apex court had issued guidelines on unauthorised occupants of government bungalows.
RTI Activist SC Agrawal, who had filed the application, said, "big question arises if reasons given by Lalu Prasad Yadav and Buta Singh for retaining ministerial bungalows that too on special concessional lease-rent can provide such palatial residences to common people of this nation!".
"Political rulers including also those chaired in cabinet committee on accommodation must not be allowed to bypass Supreme Court directions in respect of government-accommodations. Any relaxation to Supreme Court directions should be cleared by the apex court only. SC's order should be complied in letter and spirit," Agrawal added.
But their stay would be under the lens of new government that is expected to take charge later this month as these premium bungalows in Lutyens' zone are mostly for the ministers and are always in demand as there is always shortage of such properties.