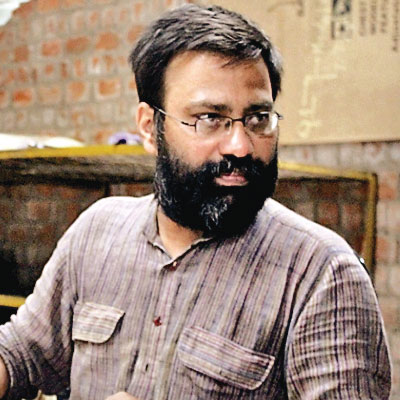 All of us know Edward Snowden. But how many of us know Shubhranshu Choudhary, the man who beat Snowden to the prestigious 2014 Digital Freedom Award. Last year's winner was Malalla Yusufzai.
Choudhary was felicitated with the award on Thursday night at the Barbican Centre in London.
For those who don't know Choudhary, he's an Indian journalist who experimented with a revolutionary idea and brought the problems and woes of the people cooped up in the deadly confines of Bastar and other Naxal-infested areas to the fore.
Choudhary pipped Snowden to 2nd, 3rd or 4th place after a public vote put him on top of the heap of nominations. Who nominated Choudhary for the award, dna asked him. Answering from his hotel room in London, he said: "That I don't know. I came to know that I was in line for the award when Index On Censorship, UK, which has instituted the annual award, called me up in January and gave me the news."
Choudhary is the "brains behind CGNET SWARA (Voice of Chhattisgarh) a mobile-phone service that allows citizens to upload and listen to hyper-local reports in their local language, circumventing India's strict radio licencing laws and creatively providing an outlet for overlooked people on the wrong side of the digital divide", reads the Index On Censorship citation.
"I was told that Snowden too had been nominated for the award," Choudhary said. "I didn't know I stood a chance to win."
The award means a lot for Choudhary. A BBC journalist based in Delhi, Choudhary quit journalism one fine day and went to Chhattisgarh to do something that no journalist had done to date. He opted to get news from the horse's mouth, and then tell it to the world at large. In the process, he gave voice to the unheard millions.
Based in Raipur, he started the Central Gondwana Net (CGNet) Swara, which empowers people to tell the world their stories in their own languages, in 2004.
How important is the award?
"You can't imagine," said Choudhary. "It will bring international attention and focus to the problems of people who have been denied a voice. By bringing hope and solving small, small problems it will help eliminate the big problem of internal security."
Choudhary said with the international support the award will bring with it, (CGNet) Swara will give a "sustainable model to the GOI to solve the main problem".
The only hitch is, All India Radio rules the airwaves.
Freedom of expression
Index on Censorship's Freedom of Expression Awards recognises the bravest journalists, artists, campaigners and digital innovators from around the world. Their true stories remind us that the right to free expression must be defended at all costs. This year's shortlists feature 17 remarkable nominees, selected from over 400 public nominations. Each have courageously and creatively stood up against some of the world's most repressive regimes.