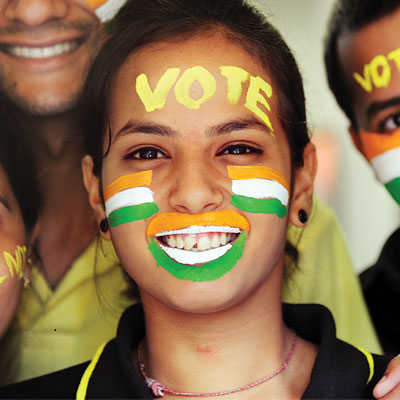 As the country moves into the 6th phase of the general elections today, the gaze has turned to Mumbai – whether Mumbaikars will shrug off their indifference towards one of the most important duties of citizenry and come out to vote in large numbers or would repeat the poor show of 2009.
The city had finished poorly with a very low voter turnout of 43.52% in 2009 with North East recording 42.28% polling, North West 49.15, North 46.49, North Central 41.82, South Central 41.85 and South 43.33%.
All these six seats in Mumbai are up for contest on Thursday. A massive anti-incumbency wave, presence of players like the MNS and AAP, a resurgent Shiv Sena and BJP and the perceived "Narendra Modi wave" are among those factors, which may make it difficult for the Congress and NCP to repeat its 2009 peformance of sweeping all six seats in Mumbai.
Leaders across the political spectrum admit that a combination of anti-Congress and NCP sentiments, internal wranglings within the Shiv Sena and BJP, multi-polar fights caused by presence of the MNS and AAP in the fray and urban voters' apathy may lead to close and unpredictable contests that may see victory being determined by wafer-thin margins.
In the second biggest phase of ongoing general elections for the 16th Lok Sabha, over 1.80 crore electors in 11 states and one UT will decide the fate of 2,097 candidates who are in the fray for 117 parliamentary seats.
Looking at the enthusiasm of electors so far, the election commission again is expecting a high voter turnout in this phase as well.
"The 5th phase saw an increase of 8.26% for 121parliamentary seats compared to the 2009 elections for the corresponding seats. We are hoping for a similar kind of voter turnout, if not more, as the weather is not inclement and people are keen to make use of their power to choose the decision-makers. We have done a lot of spade work in Mumbai to encourage its electors to vote," a senior EC official said.
Political observers feel that entry of AAP and the MNS factor should prompt Mumbaikars to break the monotony. Entry of AAP contestants, activist Medha Patkar and banker Meera Sanyal, has made the multi-cornered contest interesting in Mumbai.
Hyper-sensitive constituency of Anantnag in J&K is another constituency that witnessed one of the lowest voter turnouts — a mere 27.10% in 2009. With Hurriyat hardliner Syed Ali Shah Geelani again calling for a boycott, it will be interesting to watch if Kashmiris want to have their say in the elections.
Among the star contestants, Hema Malini, BJP candidate from Mathura, is also the richest of the 2,097 candidates in this phase with total declared assets worth over Rs178 crore.
The antecedents of candidates, however, continue to present a poor choice to the electors. According to ADR, 15% of the candidates have declared criminal cases against them which means 504 candidates out of 2097 are facing criminal charges.
Tamil Nadu has the highest number of 103 candidates facing criminal cases followed by Maharashtra with 68 and Bihar 38.
As many as 204 candidates have declared serious criminal cases including cases related to murder, attempt to murder and robbery etc.
—(With inputs from Dhaval Kulkarni)