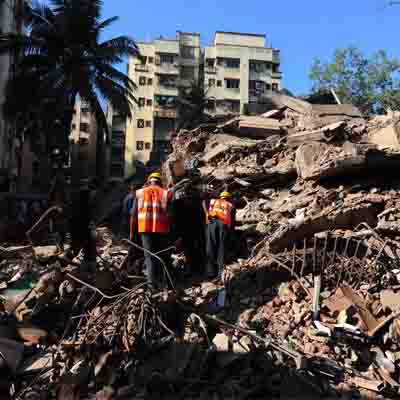 At least 11 construction workers were today killed after a newly built compound wall adjacent to their huts collapsed near Uttarapalayam in Tiruvallur district in Tamil Nadu.
A 19-year-old youth Nagaraj was rescued from debris, police said. All the labourers, said to be from Andhra Pradesh, were working in a private godown. Five fire tenders were pressed into service for rescue work.
The incident occurred after heavy rains lashed the area last night, police said.
Tiruvallur District Collector K Veera Raghava Rao visited the accident spot and said those responsible for the incident would be punished. "A total of 11 people died on the spot, including four women and a child. Rescue operations are going on," Rao told reporters.
Earlier this week, a building collapse in Chennai left over 60 people dead. Most of the victims were construction workers, who were reportedly in the building to collect their wages.
Six people have been arrested so far for negligence, including the chief builder and the architect. The collapse came only hours after a dilapidated apartment block crumbled in the capital New Delhi, killing 10 people, including five children.
A massive influx of people to cities in search of jobs and a shortage of low-cost housing has helped fuel the construction of illegal buildings across the country, often made using substandard material. Millions also live in dilapidated old buildings, many of which cave in during rains. In September last year, more than 50 people were crushed to death when a five-storey building collapsed in India's financial hub Mumbai. Read more