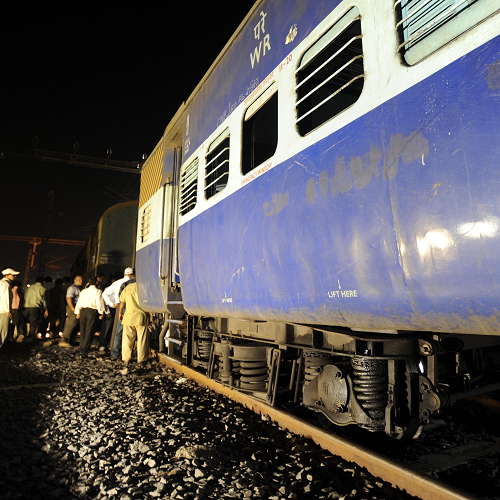 Twelve people, including 11 children, are feared dead and 16 injured after a school bus collided with a train in Medak district of Telangana on Thursday morning.
According to reports, the bus belonged to Kakatiya school, and the accident took place at an unmanned level crossing when the bus was crossing the tracks at Masaipet village in Medak.
A senior police officer told AFP, "11 students and the bus driver were killed", while a railway official said he feared as many as 25 children were dead after the collision. Reports say there were 40 children on board the bus. "12 feared dead including 11 children, while 16 grievously injured," said DIG N Suryanarayana.
Chief Minister K Chandrasekhara Rao has ordered an inquiry and is believed to be on his way to the site. Telangana Home Minister Naini Narsimha Reddy expressed his condolences and said a thorough inquiry will be conducted. "It is a sad incident. A thorough inquiry will be conducted and action will be taken against those responsible."
Telangana train accident: Prima facie evidence points at school bus driver's negligence
The Additional Director General (ADG) PR, Railways, Anil Saxena, said Thursday that prima facie evidence points the blame at the school bus driver for the collision between the Nanded- Hyderabad Express and a school bus at an unmanned crossing in Medak today. Saxena told ANI, "A school bus without observing mandatory precautions tried to cross the track when the train was on the track. It is an unfortunate, tragic accident. Prima facie it appears that the driver did not take enough precautions on such unmanned precautions. The driver or his attendant should have got down and seen if the track is clear." He also added that the focus was to provide best possible care to the injured and that they were collaborating with the district administration to do so. Read more
Prime Minister Narendra Modi condoles loss of lives in train-bus collision in Telangana
Prime Minister Narendra Modi today expressed his deepest condolences to the families of those who lost their lives in the train-bus collision in Medak district of Telangana this morning. He prayed for the speedy recovery of those injured in the accident, a PMO statement said. Read more
The Prime Minister has expressed his deepest condolences to the families of those who lost their lives in the accident in Medak district.

— PMO India (@PMOIndia) July 24, 2014
Unmanned railway crossings remain death trap
Railways still has 14,853 unmanned level crossings out of total 32,694 crossings across the country despite frequent accidents at these crossings as the one happened in Kanshiram Nagar (Kannauj), where a bus carrying a wedding party collided with Mathura-Chapara express.
In 2010-11, 229 people died at unmanned level crossings against a toll of 95 in 2011-12. Railways data shows, 48 train accidents had taken place at unmanned level crossings last year, while there have been 13 accidents since this April.
But, rail officials boast that the accident rate has come down from 340 in 2002 to 229 last year following the impact of an awareness campaign. Though they admit urgency to man these crossings, funds crunch is being cited as the main constraint. "The cost of manning thousands of such crossings is huge," an official said, adding that it has plans to eliminate around 2,500 unmanned level crossings by the end of this fiscal.
(With inputs from Zee Media)