Nine-time Congress MP Manikrao Gavit from Nandurbar Lok Sabha constituency is all set to create record if he wins this election for the 10th time. However, for 80-year-old Manikrao, this election will not be a cakewalk. He has been challenged by Dr Heena Gavit, daughter of expelled NCP leader and former minister Dr Vijay Kumar Gavit. Though Manikrao is honest, he failed to carry out developmental works. In an interview with dna's Sudhir Suryawanshi at his Navapur residence, the Congress MP opens up on various issues. Excerpts: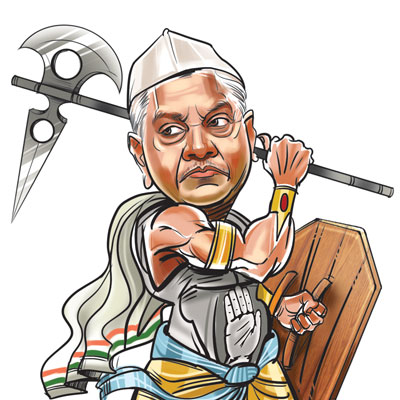 There are allegations that though you were an MP for the last 35 years, you didn't take any major developmental projects that can generate employment?
To bring industry to the state is not my sole responsibility. All party people should come together and do the developmental work. As an MP, I was very busy and had a lot responsibilities so could not give that much time to my constituency. However, I am confident about my victory this time. I am the senior most MP in parliament today.
Which are the big ticket projects you have done?
I have constructed the biggest jail in Nandurbar. Besides, I helped the state government get 300 acres of forest land from the central government to set up the Asia's biggest solar power project in Shahada taluka in Dhule district which is also part of my Lok Sabha constituency. As a central minister, I had started pension for 2,000 freedom fighters. Moreover, I had pursued the railway ministry to convert the Surat-Bhusawal railway line to double-track electric line.
You have been an MP for almost 30 years now, but still 60% of the population of Nandurbar migrates to Gujarat for work. Don't you think it is a failure for you as an MP?
Not at all. I am not telling them to go to Gujarat. They are only going there. And, I have no power to stop the migration. My party should do something. Other party leaders should help me in bringing projects here.
Are Congress president Sonia Gandhi and Prime Minister Manmohan Sigh coming to campaign for you this time in Nandurbar?
I am not calling them, if they want to come, they are welcome.
The Congress party used to start their campaign from Nandurbar only. But this time, no so such development, why?
I do not want to speak on this subject. It is the party's decision.
How do you see your opponent Dr Heena Gavit as a Lok Sabha candidate?
She is the daughter of a rich man – former minister and expelled NCP MLA Dr Vijay Kumar Gavit. They have earned a lot of money and now using against me. The people will speak about them on the polling day by voting against them.
Nandurbar has the highest malnourishment deaths. What is the reason?
I do not want to comment on this issue.
Is there any Modi factor in Nandurbar?
I do not see any Modi factor in our areas. People like to vote for the Congress party. This time also they will vote for me.
If you get elected this time, what sort of industry you bring to Nandurbar?
My party will take a decision on this.
Besides Dr Heena Gavit, there are many young and educated tribal candidates in the fray. What's your comment?
These so called young people stay in Pune and Mumbai. Election is here, so they have come to Nandurbar to contest polls. It is not good for them to contest the election at such a young age. They should do government jobs only. Now, the voters will decide their fate as well.