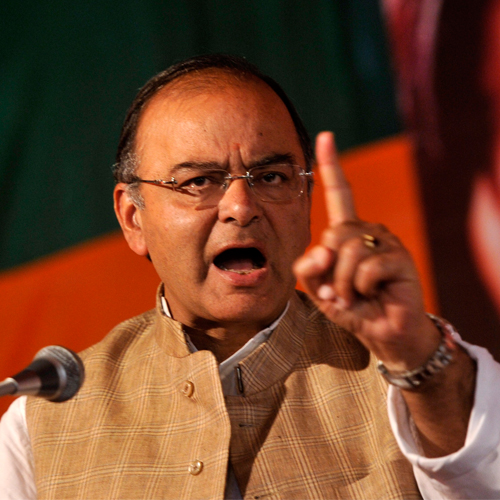 On Monday, President Pranab Mukherjee in his address to the joint session of Parliament, gave out a blueprint of what Narendra Modi's government plans to do.
Following that, on Tuesday, both houses of Parliament met and are to discuss the motion of thanks on the President's address. In the Lok Sabha, the discussion has been initiated by Rajiv Pratap Rudy and seconded by minister Ram Vilas Paswan, on behalf of the government.
In Rajya Sabha, the intervention will be by Finance Minister Arun Jaitely.
The discussion will be for 12 hours and spread over Tuesday and Wednesday.
LIVE UPDATES:
* Arun Jaitley addresses session in Rajya Sabha, says, "Winner must never get arrogant, loser must not be bitter. After 30 years you have a party with tall majority but within that the changing character of India is visible. What people want is governance and not merely social combinations as substitutes."
* "We had thought we are in an era of alliances. We still believe that. Alliances represent the strength of India.. Indian democracy now is evolving, people gave a verdict which was higher than some of us expected. The burden on our government is going to be much higher is because people expect us to perform," says Jaitely.
* "What people want is governance, not social combinations as substitutes," Jaitely said. "We gained because of anti-incumbency against are opponents. After decades I saw return of massive crowds at rallies."
* "Are you aware of what state you have left the country behind in?" he continues UPA bashing. "For the last 2 years, India has grown at less than 5%. You have left the country with low growth rates, high inflation, high fiscal deficits. There has been no poverty alleviation, but you have alleviated poverty instead"
"There is one danger if one continues to be in power for a very long time. Governments fall into the trap of believing in their own ads."
* Policy with regard to neighbours is primarily guided by our own security considerations
* Rudy moves motion of thanks for President Pranab Mukherjee's speech. The motion is supported by Ram Vilas Paswan.
It was said BJP was communal, but ppl gave us(NDA) 336 seats so are ppl of India communal?-Ram Vilas Paswan

— ANI (@ANI_news) June 10, 2014
* Rudy attacks Aam Admi Party, calls them bhuli bhakti party (a clueless party).
Read Also: BJP attacks Congress over 65 years of 'misrule', but promises to take Opposition along
* Mayawati slams Samajwadi Party in Uttar Pradesh, demands Akhilesh Yadav government's resignation. Read More
If UP Govt doesnt hand over Badaun case to CBI in next 4-5 days then we will approach the judiciary-Mayawati pic.twitter.com/4SvkDIq28p

— ANI (@ANI_news) June 10, 2014
* There are people in Jammu and Kashmir who are also part of India, who access facilities provided by their own country, but do not vote or participate in Indian democracy. How does this make sense?: Rajiv Pratap Rudy
* In the last administration, the left hand did not know what the right one was doing. This time around, we are going to change that system. Every minister will be accountable and we will be answerable in 5 years: Rajiv Pratap Rudy
* Narendra Modi communicated with so many people in this election; government has to be for every citizen of the country, not for a few: Rajiv Pratap Rudy
* Those who understand what I am saying, including Shashi Tharoor, are silent. Those who do not understand are trying to interrupt me. 10 crore people face acute shortage of water in the country. Mr Tharoor, if we all agree on a policy to help them, will we not be able to solve it?: Rajiv Pratap Rudy
* Last night there was no electricity in Delhi. There are many more people in the country who do not have power, we need to think about it: Rajiv Pratap Rudy
* A big challenge for the government is to handle poverty: Rajiv Pratap Rudy
* Venkaiah Naidu intervenes as MPs create uproar in the House, urges members not to speak without permission from the Speaker: Rajiv Pratap Rudy
* We are sitting in the House with the confidence and the faith that we can bring change in the country. The people of the country have imposed faith in us which is why we are sitting here: Rajiv Pratap Rudy
* Best way to predict future is to invest it and the BJP is working towards it: Rajiv Pratap Rudy
* We will work together with everyone's cooperation. We will take suggestions from everyone but if the opposition gives suggestions of the manner in which they have led the country for over 65 years, we will totally reject it: Rajiv Pratap Rudy
* Three parties completely wiped out from Uttar Pradesh. One party has no representative in Lok Sabha now: Rajiv Pratap Rudy
* The indications only show BJP's rise across the country. BJP's voteshare has gone up drastically: Rajiv Pratap Rudy
* The Congress has got just 44 seats in the elections while the BJP achieved a massive mandate in the elections: Rudy
* BSP MPs walk out of the Rajya Sabha over the UP law and order situation
* have never seen an election where one is communicating to crores of people: Rajiv Pratap Rudy
* Discussion initiated by Rajiv Pratap Rudy on Motion of Thanks begins in Rajya Sabha
* Following the uproar, the Rajya Sabha has been adjourned till 11:19
* The protest was more of a show of strength as the party does not have many members in the House
*BSP MPs in the well of the Rajya Sabha demanding the dismissal of the UP government. BSP chief Mayawati also present in the House