Sumitra Mahajan has been unanimously elected as the Speaker of Lok Sabha, Prime Minister Narendra Modi congratulates her on behalf of the house.
*Prime Minister Narendra Modi proposed the name of Sumitra Mahajan as the Speaker of the Lok Sabha.
Lok Sabha session underway. Sumitra Mahajan likely to be elected Speaker today. Updates http://t.co/cFXkZUPmDT pic.twitter.com/VxSTz7DqZr

— NDTV (@ndtv) June 6, 2014
*On June 5, 2014 Narendra Modi, Sonia Gandhi and others had taken oath as the members of Parliament.
Read full coverage here: Narendra Modi, Sonia Gandhi along with newly elected members of Parliament take oath of office
The Prime Minister proposed the name of Sumitra Mahajan ji as the Speaker of the Lok Sabha.

— PMO India (@PMOIndia) June 6, 2014
Whatever I want to say(on being LS speaker) I will say later-Sumitra Mahajan pic.twitter.com/Q5Q8BEfNAm

— ANI (@ANI_news) June 6, 2014
Here's all you need to know about her:
Endearingly called 'tai' (elder sister), soft-spoken Sumitra Mahajan, an eight-time BJP MP, is a battle hardened leader who has risen from the ranks to the top post of Lok Sabha Speaker.
Interestingly, the official name of 71-year-old Mahajan, the eldest and senior-most among women Members of Parliament, in the 16th Lok Sabha MPs' list is also mentioned as "Sumitra Mahajan (Tai)".
Mahajan will be the second woman after Meira Kumar to be elected as Lok Sabha Speaker.
Starting her political life at the age of 39, Mahajan became the deputy mayor and then an MP from Indore in Madhya Pradesh. She was a Minister of State in the Atal Behari Vajpayee cabinet from 1999 to 2004, holding different portfolios of Human Resources, Communications and IT and Petroleum and Natural Gas.
A lawyer-turned-politician, Mahajan is known for her trademark simplicity, honesty and clean image besides her impeccable winning record at the hustings.
An active parliamentarian, she has not only headed important committees, but has also been a keen debater and avid questioner inside the House, often seen putting ministers on the mat with her calm but firm interventions.
The mild-mannered Mahajan has over the years emerged as a force to reckon with in Indore where she never lost since she first became an MP in 1989 and a generation of opposition leaders have been waiting to trounce her.
She, however, had lost the Indore Assembly election thrice before becoming an MP.
Mahajan won her Lok Sabha seat for the eighth consecutive time in this election by an impressive margin of 4.67 lakh votes.
Born on April 12, 1943 in Chiplun of Ratnagiri district in Maharashtra, Mahajan became a municipal corporator in 1982.
Within the BJP, Mahajan has grown from being President of the BJP Mahila Morcha in Madhya Pradesh in 1990 to being the national general secretary in 1998.
Mahajan was vice president of the party's Madhya Pradesh unit in 1992 and later Secretary of BJP's MP unit before becoming chairperson of the BJP Parliamentary Party in the state in 1995. Besides, she was BJP Mahila Morcha head in 2005.
As a Parliamentarian, Mahajan has been a member of various Committees including those on Human Resource Development and its Sub-Committee on Value-based Education, Convenor of the Sub-Committee on Drug Control, Joint Committee on the Empowerment of Women and its Sub-Committee on Appraisal of Laws relating to Women—Criminal Laws.
She has also been Chairperson of the Committee on Social Justice and Empowerment as well as of the Standing Committee on Rural Development.
Mahajan was married to late Jayant Mahajan, an advocate of Indore and has two sons.
Her other interests include Marathi literature, poetry and drama. She is associated with many cultural organisations.
The BJP leader is also active in the area of women's welfare and social reforms.
`She has also been a former president of Marathi Academy in Madhya Pradesh, Chairman of Ahilya Utsav Committee, Indore, Contemporary Study Centre, Indore and former director of Indore-Paraspur Sahakari Bank and Maharashtra Brahmin Sahakari Bank.
Watch LIVE coverage here:
Senior leaders from all parties, including Prime Minister Narendra Modi, moved motions proposing her name.
The others who proposed her name included Congress Parliamentary Party leader Mallikarjun Kharge, AIADMK's M Thambidurai, Trinamool Congress' Sudip Bandopadhyay, and Samajwadi Party's Mulayam Singh Yadav.
Besides the Prime Minister, other Bharatiya Janata Party leaders who proposed her name included Home Minister Rajnath Singh and External Affairs Minister Sushma Swaraj, Parliamentary Affairs Minister Venkaiah Naidu said.
The formal election of the new speaker will take place today.
Mahajan, 72, is an eight-term member of the Lok Sabha from Indore, Madhya Pradesh.
Representing Indore in the Lok Sabha since 1989, she was a minister of state in the Atal Bihari Vajpayee government from 1999 to 2004.
Mahajan was elected from Indore for the eighth time in the 2014 General Election by a margin of 4.67 lakh votes.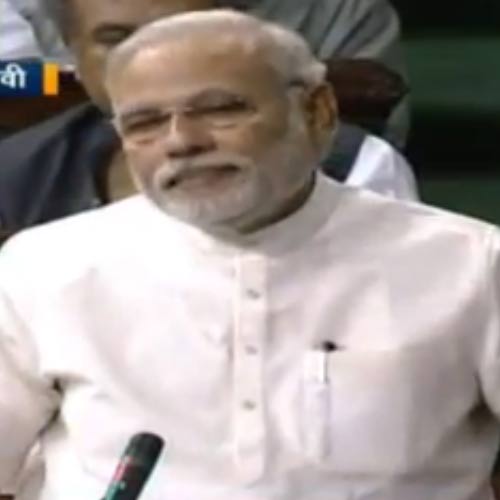 Mahajan, lovingly called 'Tai', is known for her amicable nature and has her friends and admirers in all parties.
The name of AIADMK member M Thambidurai is doing the rounds for the post of Deputy Speaker since the party supreme and Tamil Nadu Chief Minister J Jayalalitha had a lengthy meeting with the Prime Minister two days back.
The AIADMK recently made Thambidurai its Parliamentary party leader, a post he had held in the last Lok Sabha as well. Thambidurai represents Karur Lok Sabha constituency and has been a Deputy Speaker of the Lok Sabha some time back.
Thambidurai was deputy speaker between 1985 and 1989.
With the BJP-led NDA not having majority in the Rajya Sabha, it wants support from other parties and for this purpose, AIADMK, which has ten members in the Upper House, is apparently being wooed. However, there has been no formal word either from the BJP or AIADMK on the issue.
In the 245-member Rajya Sabha, the BJP has just 42 members and its ally Shiv Sena-3, Shirmomani Akali Dal-3 and TDP-6. RPI-A is having one member.
With agency inputs