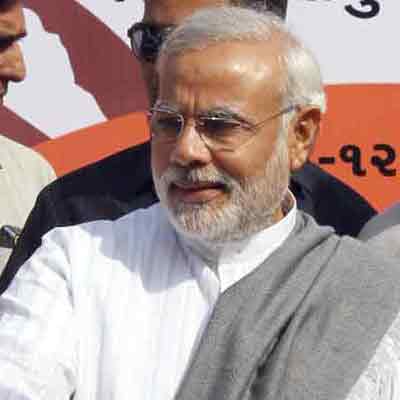 As part of his rallies leading upto Lok sabha elections 2014, Narendra Modi visited Mandla in Madhya Pradesh and addressed issues on tribal welfare.
*Delhi can't discriminate between states. Both must work together, all are equal: Narendra Modi
*Nothing has been left. They have looted the people. Should they not answer about corruption: Narendra Modi on Congress' corruption.
*People voted for them in 2009, they formed a government but what happened, did prices fall? No, prices only increased: Narendra Modi on Congress.
*Even if some work was incomplete that was told to the people by Shivraj ji but see arrogance of Congress, they wont answer people: Narendra Modi.
*Elections are for Lok Sabha. Those in government should go to people & tell them what they did for people: Narendra Modi.
*We have a special bond, we have been drinking the same water. We are dependant on Narmada Mata: Narendra Modi in Mandla.
*This is land of Mata Durgavati. This land symbolises victory over injustice says Narendra Modi in Mandla.
*MP's popular CM devoted to service of the poor: Narendra Modi on Shivraj Singh Chouhan as he begins his address in Mandla.
*Narendra Modi targets Congress over tribal welfare schemes. Says, Atal Bihari Vajpayee brought reforms for the marginalised community.
Bharatiya Janata Party (BJP) prime ministerial candidate Narendra Modi addressed poll rallies in Madhya Pradesh and Chhattisgarh today. The Gujarat Chief Minister addressed poll rally in Maoist hotbed Bastar in Chhattisgarh as well as Balaghat and Mandla in Madhya Pradesh The BJP has fielded former Union minister,
Faggan Singh Kulaste from Mandla, while the Congress has given its ticket to senior party leader Omkar Markam. From Maoist-affected Balaghat seat, Bodh Singh Bhagat would contest on a BJP ticket against Hina Kavre of Congress. Meanwhile, security has been beefed up across naxal-affected Bastar region in Chhattisgarh ahead of Modi's rally.
Bastar will alone go to polls in the first phase of Lok Sabha polls in the state on April 10 Chhattisgarh will undergo a three-phased polling for all 11 parliamentary constituencies next month.
Watch the live here: