Modi will address four Bharat Vijay Rallies in Amravati and Nanded in Maharashtra, and Bijapur and Gokak in Karnataka on Sunday.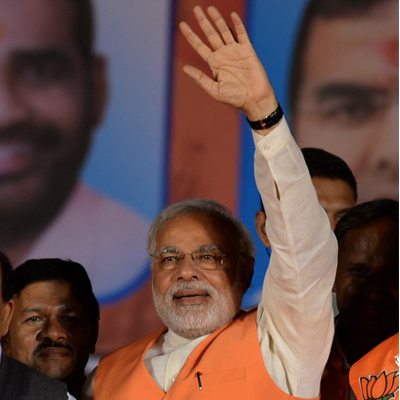 Latest updates
*Shahzada says balloon of development will burst. But your Party MPs, CMs all came to Gujarat in 02, 07 & 12 but people didn't buy your lies.
*Whenever Shahzada speaks these days he talks about Gujarat. But this is a Lok Sabha Election not a Gujarat Election: Narendra Modi
*Congress apna wahi tape recorder bajate rehte hai, Hindustan ko track record chahiye: Narendra Modi
Congress manifesto "Ghoshna patra" nahi "Dhokha patra" hai: Narendra Modi pic.twitter.com/HVrRJCrSi6

— ANI (@ANI_news) March 30, 2014
*We had to do recruitment of teachers. We used technology we did not do interviews and selected 13,000. Scope of corruption ended: Modi
*State must be policy driven. Then the scope of discrimination does not arise and when this happens there is no scope for corruption: Modi
*All parties are working together with the aim that Modi should not win, they know what their state will be if I come to power: Narendra Modi
*We have demographic dividend, democracy and a large demand. These 3Ds- no other nation has: Narendra Modi
*Our youth is ready to work hard and the youth wants jobs...all they want is opportunity: Narendra Modi
Read: Narendra Modi lashes out at Rahul Gandhi, Ashok Chavan, Sharad Pawar
*Such a youthful nation, what can it not do! It can do everything we can become the pride of the world: Narendra Modi in Bijapur, Karnataka
*But this is a democracy. Once the people bless someone, nothing else works: Narendra Modi in Bijapur, Karnataka
*Why the fear among Congressmen? Why are they afraid? They know their place after 16th May...that is why they are scared: Narendra Modi
*I dont think those who have looted the nation can escape. I am seeing the mood from Kashmir to Kanyakumari: Narendra Modi
*In no state will the Congress tally reach double digits. In many states it wont even open its account: Narendra Modi in Bijapur
*This time all the parties are working together with the aim- Modi should not win: Narendra Modi in Karnataka
*Kuch rajya aise honge jaha Congress ka khaata bhi nahi khulega: Narendra Modi
* Modi concludes his speech.
* Mahayuti Ko Bhavi Vijay Deejiye: Narendra Modi.
* Let Marathwada script history and punish those who ruined and looted the nation: Narendra Modi in Nanded.
* Mr. Chidambaram please answer the nation on the Nirbhaya Fund: Narendra Modi in Nanded
* In their Dhokha Patra Congress is talking about women security. Do you even believe them: Narendra Modi in Nanded
* Congress will not bring black money because they know who the money belongs to. This money will be for the poor: Narendra Modi
* Those who have black money naturally dont want black money to come. India demands black money return: Narendra Modi
* Should black money come back or not. Every single paisa must be brought back: Narendra Modi
* Guilty will be punished. I do not care which party he or she belongs to. Parties wont have to compromise on tickets: Narendra Modi
* We stand for clean politics. I assure nation from this pure land- we will put special courts for those facing cases & punish guilty: Modi
* On this land I take a wow that we will not spare those who looted the heroes of Kargil. This is not how things run: Narendra Modi in Nanded
* Adarsh shows the attitude of Congress towards our heroes and our armed forces: Narendra Modi
* Can there ever be a scam over widows of heroes who died in Kargil? Its not about a building in Mumbai or giving flats to in-laws: Modi ji
* Was giving a ticket your investigation? Congress says law allows him to...shameless...what Adarsh candidates they have: Narendra Modi
* In Delhi Shahzada had said you wont compromise with corruption. You said there will be probe against Ashok Chavan: Narendra Modi
* We should actually give our sisters, not steal from them: Narendra Modi in Nanded
* Can a brother ever steal from his sister? Can any parents harm their daughter? Your local candidate stole from his brother for power: Modi
* In the history of India never have so many parties come together to defeat Modi. They are troubled- after 16th May they know their place.
* Those who have looted the nation can not escape this tsunami. This time the people are fighting the elections: Narendra Modi in Nanded
* There is a sea of humanity here. And you are waiting for hours in this heat. Will return your affection with record development: Modi
* We have a very strong relation with Guru Gobind Singh. There was a Panj Pyare from Gujarat. He was a tailor from Dwarka: Narendra Modi
* This is a very blessed land. This land teaches us bravery, sacrifice, courage. I bow to this land: Narendra Modi in Nanded
* Gudi Padwa is coming. My greetings to you all: Narendra Modi in Nanded
Narendra Modi reaches Nanded, addresses supporters.
----------------------------------------------------------------------------------------------------------------------------
In an effort to step up the game ahead of the Lok Sabha elections, BJP's prime ministerial candidate Narendra Modi addressed a rally in Akola in Maharashtra on Sunday.
- I am here to tell the people of Maharashtra to sever ties with those who have betrayed the trust of the people: Narendra Modi
- Congress Manifesto is not a "Ghoshna Patra" but a "Dhokha Patra": Modi
- UPA policies don't help farmers, says Modi
- Cotton export is banned but mutton export is subsidized. Such is the government in Delhi: Modi in Akola
- I am still not able to understand why the ban on cotton export was put. Farmers suffered immense losses: Narendra Modi
- State of Cotton farmers in Akola: Farmers lose money, they suicide, In Gujarat, they prosper!: Modi
- If you want freedom from your troubles then you must make India Congress Mukt, says Modi
- 10 years is not a small period. Yet, if there is no change in your lives..so who is responsible: Modi in Akola
- UPA is in power for 10 years, Congress-NCP is in power here. But has anything good happened for you: Narendra Modi
- You came in this heat...I am told the Administration even refused to make water facilities available. Your Tapasya wont go in vain, says Modi
- You have made Akola Congress free and now you have to make India also Congress free: Modi in Akola
Also Read: Gujarat model was praised by Rajiv Gandhi foundation, says Narendra Modi
Watch his live address here:
the BJP prime ninisterial candidate
Modi earlier addressed a rally in Amravati, Maharashtra.
The rally, which is part of Modi's campaign trail in Maharashtra, is significant in light of Congress' decision to nominate Ashok Chavan in the upcoming polls.
Chavan is embroiled in a controversy over the Adarsh housing society scam.
A few hours before Modi's Maharashtra campaign kicked off, Ashok Chavan took a jibe at the Gujarat chief minister.
Ashok Chavan: A democratic nation,he can campaign anywhere. Modiji needn't worry about Maharastra,enough growth here. pic.twitter.com/BFEAHlX0Zz

— ANI (@ANI_news) March 30, 2014